with thanks to Perry Parkinson at SRUC's Barony College, Dumfries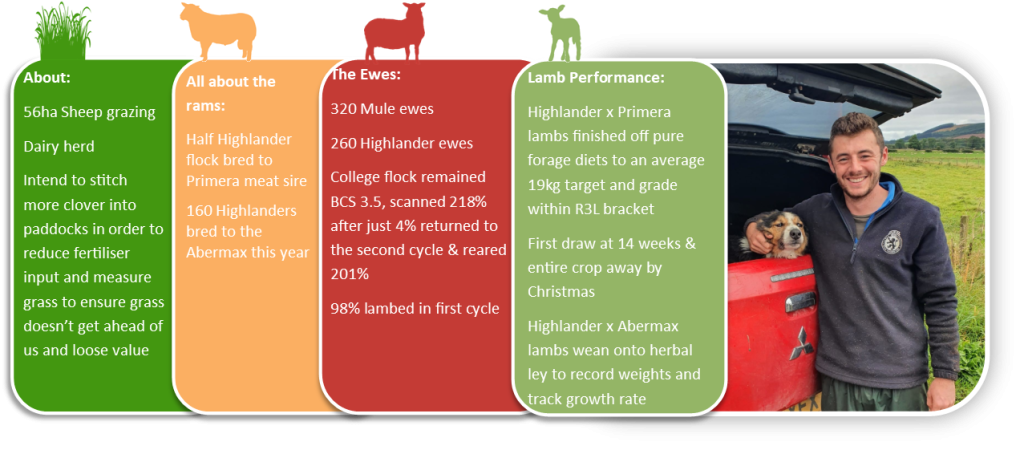 Introducing a low input, high output forage based system with Highlander ewes is under the microscope for the second season at SRUC's Barony College, Dumfries, and it's 'so far, so good,'  says head shepherd, Perry Parkinson. "The flock is demonstrating real efficiency, and potentially reduced emissions.
"We're mixing things up; we've introduced a second flock comprising Highlanders to see how they financially perform compared with our traditional Mule flock which lambs indoors, and also from an educational point of view," he explains.
"The Highlander lambing commences outdoors on 1 April with significant cost savings; I can manage the job myself, disease risk has been virtually eliminated and we're feeding zero concentrate.
"All the Highlanders are performance recorded, and they're bred and reared to thrive on pure forage diets 365, and our College flock has subsequently remained in BCS 3.5 throughout the year. Last season, it scanned 218% after just 4% returned to the second cycle, and despite a predator problem at lambing, it still reared 201%.
"Combine the Highlanders' prolificacy together with the fact 98% of the flock lambed within the first two cycles, and that's a lot of action going on in the lambing paddock in a very short period of time. However since these ewes are bred to suit the system, they tend to spit out their lambs within seconds. Assisted lambings amounted to less than 5% of the flock.
"I check the lambing paddock four times a day, and tag and tail just as soon as I find the lambs are on the ground. They're naturally vigorous, up and sucking within 60 seconds while the ewes are very milky and have such great maternal traits they look after their lambs and take them with them. If any do need fostering, then I've take these lambs back to the polytunnel to wait to be twinned on, alternatively twinning in the trailer in the field is always a win. However by the end of lambing, I've only had seven pet Highlander lambs."
Perry was introduced to managing a low input sheep enterprise and the subsequent benefits on returning home after a spell of work experience in New Zealand and graduating in agriculture.
"After securing the Barony College position, I became aware of the growing student interest in outdoor lambing and it got me thinking about introducing them to something new – let's demonstrate the benefits of a low input system with genetics from Innovis that are geared to the job," he says.
"Compared to the Mules averaging 86kg mature weight, the Highlander is a lighter, more compact ewe maturing at an average 73kg, so we've been able to increase stocking rate. Also Highlanders have that inbuilt resistance to worms, consequently we haven't had to worm or fluke in the two years since they arrived. However I do monitor with the FECPAK every week during the high risk periods to make sure they're not over the threshold."
Last season, half the Highlander flock was bred to the Primera meat sire; lambs were finished off pure forage diets to an average 19kg target and grade within the R3L bracket. The first draw was made at 14 weeks and the entire crop was away by Christmas. "This year we bred 160 Highlanders to the Abermax, I've planted a herbal ley to wean the lambs onto and I'm planning to record weights to track growth rate compared to last year."
"I'm intending to stitch more clover in to the paddocks in order to reduce fertiliser input and measure grass so we can graze the biggest covers first and make sure grass doesn't get ahead of us and start losing value. Add together the scheduled benefits and we should be able to further improve the unit's efficiency and reduce emissions."