Backfat Scanning Service
Innovis offer a muscle and fat depth ultrasound scanning service on behalf of Signet Breeding across England and Wales.
Ultrasound scanning of fat and muscle depth is a valuable tool used in Sheepbreeder flocks to help predict carcase fat, carcase lean and muscle. It is carried out usually when the lambs are 17-21 weeks of age.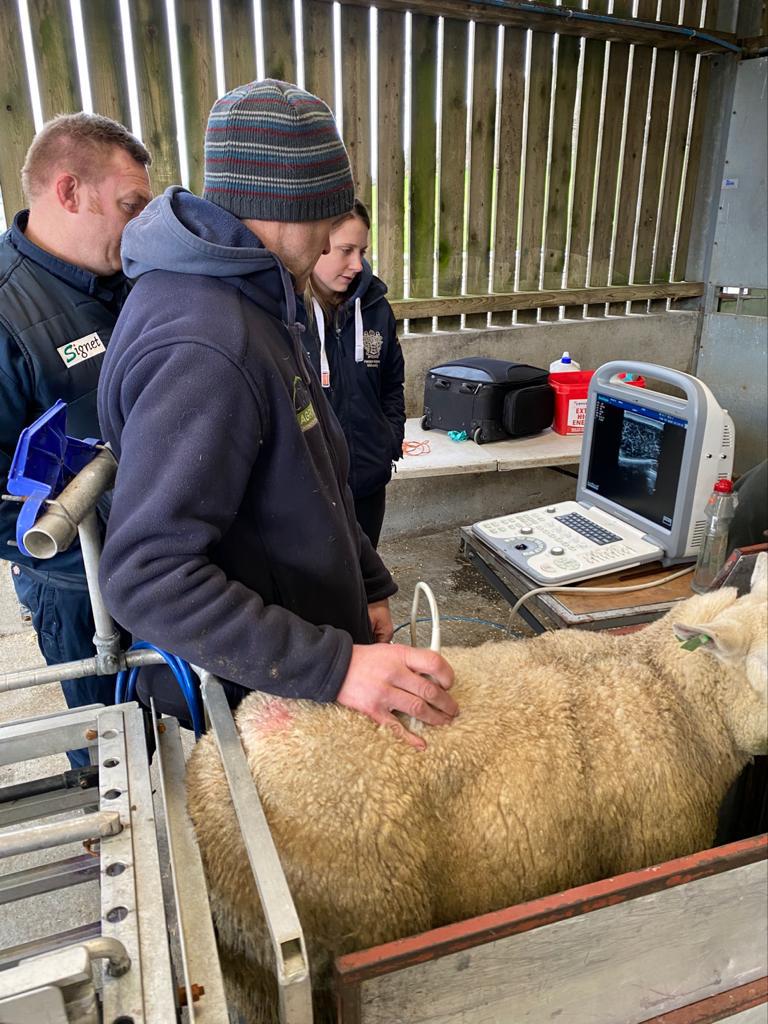 What to expect and how to plan ahead?
In order to ensure that the most efficient use is made of the technician time available on farm, please take note of the following points.
All lambs should be presented for scanning as the analysis involves comparisons with contemporaries. Only late born or very slow growing animals should be excluded. Where lambs of both sexes are to be scanned on the same day it is helpful if they are presented in separate lots.
Lambs are weighed on the same day as they are scanned so a weigh crate is preferred. If you do not have a weight crate, please make the team aware on booking.
The handling must take place undercover, preferably in a building without direct sunlight so the scans can be easily seen and to comply with electrical safety regulations.
Mains power is necessary at the scanning point. Generators can only be used if fitted with a Voltage Regulator and surge protector.
Handling facilities must be adequate and lambs efficiently presented at the scanning point. Ensure adequate help is available to handle lambs safely.
There is no need to shear the lambs but it is necessary to apply liquid paraffin to the scanning site. (If lambs are to be sheared, the scanning should be done first).
A minimum of paraffin is used but the amount needed is affected by temperature, wool absorption, and site conditions. Subsequent marks may be seen on animals if the site attracts soil particles or resists bloom dips used.
Please have your Signet records and/or lambing book to hand in case there are any queries when processing the scanning data.
How to book?
If you would like to book for one of the Innovis backfat scanning team, call the office on 01970 828236.
Booking should be made at least 3 weeks in advance.
Ultrasound backfat scanning is priced at £250 (exc. VAT) for up to and including 100 lambs.
For any additional lambs over 100, the cost is £2.50 per lamb.