Scrapie Genotyping Service – ScrapieCheckTM
ScrapieCheckTM – The most robust and reliable Scrapie test available
Innovis and LGC Genomics continue to work together to provide sheep breeders with a Scrapie Genotyping service. Many breed societies work with us to help their members keep their flocks monitored and free from disease.
Innovis and LGC Genomics continue to work together to provide sheep breeders Studies have shown that the agent that causes Scrapie can persist in the environment for several years.
Susceptible sheep that are exposed to an infected environment may then become infected and the only practical way to reduce this risk is to maintain adequate genetic protection – which means continuing to test rams at the top of the breeding pyramid.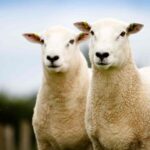 Why should I continue Scrapie Genotyping?
Scrapie is a serious sheep disease – it's under control now so let's keep it that way!
Considerable progress has been made in recent years despite the lack of interest from ram buyers. Don't give up just because your customers may not be interested – your industry needs you.
Flock owners who have had a Scrapie problem in the past will not want to buy susceptible stock
Animals destined for export must either be part of the Scrapie Monitored Scheme or Type 1 genotype
Order Your Genotyping Test Now
Please fill in the form below and we will contact you.
How do I take the samples myself?
The Innovis pin pricker kits make sampling from the muzzle of the sheep much easier than the previous method.
Make sure that the muzzle is clean of dirt and mucus before taking the sample.
Press the pin pricker against the muzzle and then relax the skin to help the blood spot form. The blood spot can then be collected onto the absorbent pad.
Full instructions are provided with each sampling kit and our technical staff can talk you though the process should you have any difficulties.
Why don't I need a vet to verify the sample anymore?
Once the blood spot is on the FTA sampler it will be stored by the laboratory for at least 5 years.
This means that the authenticity of sample can easily be checked in the case of any future dispute. Breed societies may carry out random sampling at society sales to audit this process.
Once the laboratory has received the blood samples, Scrapie results should be back within 10-15 working days. If you need results for a society sale please send blood samples in at least 3 weeks before.
Commercial Scrapie Genotyping from as little as £15.50 per animal (for groups of 30+ animals) with NO VET FEES!
Prices are based on the number of samples for testing.
The DIY sampling kits mean you can now take blood samples from your sheep yourself without the need for a vet or third party verification.
1 – 10 samples
£22.50 per sample +VAT
11 – 29 samples
£18.50 per sample +VAT
30+ samples
£15.50 per sample +VAT