New and emerging regenerative systems are offering sheep producers an alternative management opportunity. Angus Baird, a tenant farmer based on the Isle of Wight is amongst them.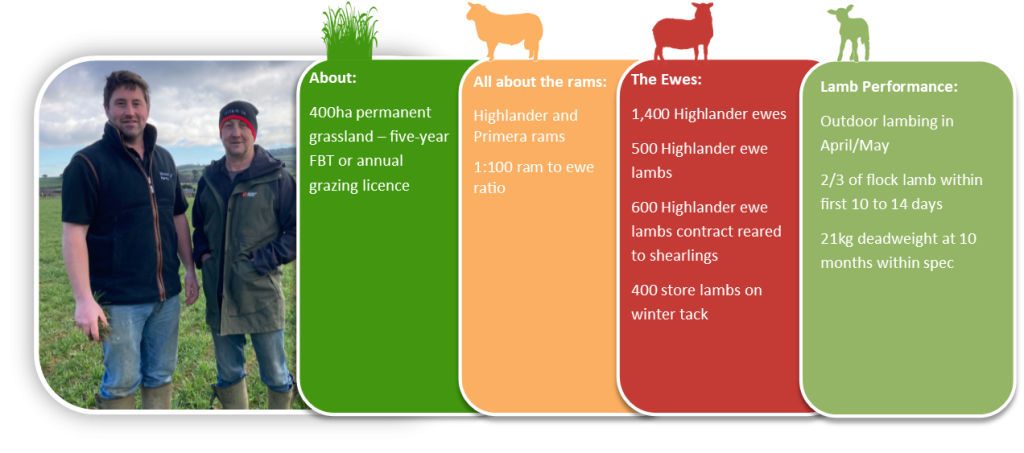 with thanks to Angus Baird and Richard Chapman
"We've developed what is a relatively extensive forage system on rented permanent grassland to which our Highlander flock is well suited. We traditionally flushed the ewes and finished lambs on turnips however arable rotations have changed in the last five years with the advent of two AD plants. Spring barley, preceded by turnips, has been swapped for maize," he explains.
"However, since arable farmers are introducing a variety of regen systems which include green cover crops such as veitch, fodder rape, oats, rye and berseem, we've had the opportunity to take on an increasing area which this last season extended to 280ha. We turn the sheep in to graze right down after which the follow-on crop can be direct drilled. We also finish lambs on cauliflower tops.
"We've a variety of arrangements between each farmer extending from mid-November to mid-April at which point they return to lamb on permanent grassland," says Angus whose resources amount to 15,000 metres of electric fence, eight dogs and two mobile handling systems.
"The opportunities are working well for us and I believe there will be plenty more options going forward as long as we remain flexible and are prepared to work with arable farmers."
Richard Chapman, Henton Farms, farms 550ha based near Atherfield is amongst the Isle of Wight's arable farmers who are introducing various new cropping strategies and sheep. "We're aware that pure arable systems won't last forever, it's been too easy to lean for the can, but the trend is changing. We need to look after our soils and I firmly believe sheep have a role," he says.
"For the last five years we've been building the area we min till and direct drill, we drill with winter cover crops to prevent leaching and encourage rooting to keep the soils from slumping then graze with Angus Baird's lambs – both finishing and replacements from October through to March. Last season we extended the area to 200ha and we stocked at approximately 25 lambs/ha.
"Nitrogen uptake is maximized; the sheep are cycling the nutrients and making them more readily available to the next growing crop. One alternative would have been to top, however that would involve additional fixed costs – another machine compacting the ground, diesel and labour," he explains. "Every four years we soil test; we'll be able to assess how much nutrient value has actually been converted by the sheep and cover crops and retained in the soil."
Angus Baird says the Highlander damline suits his relatively extensive forage-based system. "It's an outdoor lambing sheep, that's what it's been bred for, easy to handle and relatively small and subsequently efficient at an average 60kg to 65kg which enables us to stock at five to 7.5 ewes/ha.
"The Highlander is also enabling us to breed our own replacements and keep a closed flock; 75% of ewes are bred to the Highlander for replacement purposes and the remainder to the Primera meat sire. The flock is scanning 195%, rearing 165% and lasting an average five crops. Both Highlander and Primera rams are keen to work we run them in a ration of 1:100 ewes, we lamb everything outdoors in April/May and two thirds of the flock lambs within the first 10 to 14 days.