by kind permission of the Marchant family, Clonhie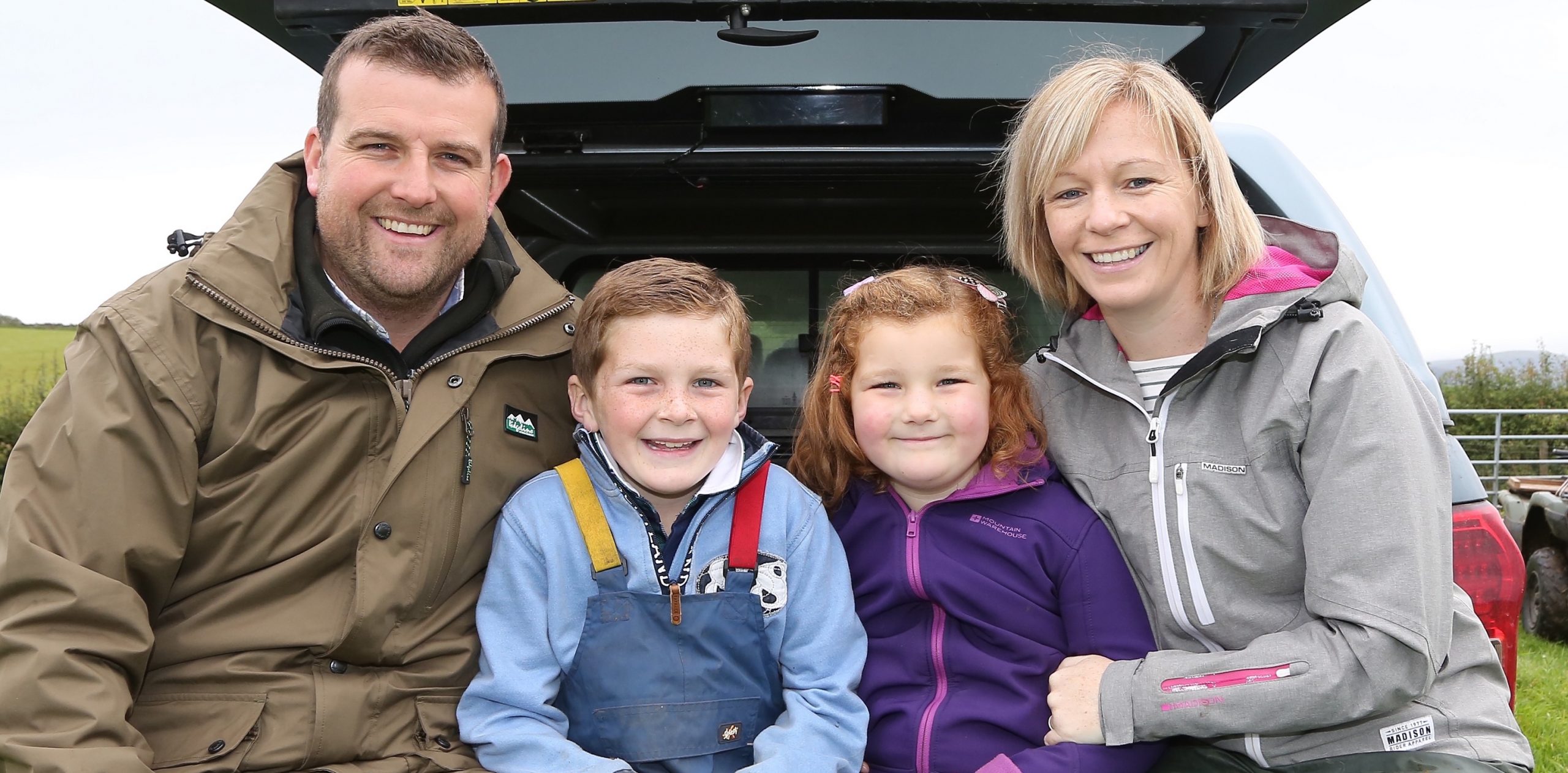 Searching for an easy outdoor lambing sheep that would help to simplify the system and improve its efficiency led Andrew and Aileen Marchant to invest in Innovis genetics.  
"We introduced the Aberfield maternal sire to the flock three years ago and liked it straight away. We found our Aberfield cross ewes thrive outdoors 365 days of the year, our nightmare nine-week indoor lambing period has become concentrated to one month outdoors which has made significant cost savings, in particular to labour requirements. The lambs are thrifty with tremendous survivability and growth rates, whilst purchased concentrate fed has been cut by 50% to a targeted minimal amount.  
"Furthermore, we had previously invested heavily in sheep due to health issues, whereas nowadays the flock is closed, and I'm re-assured that the only sheep I now buy in are Innovis rams which have all been MOT'd, quarantine drenched and are accompanied with comprehensive health treatment records."  
The Marchant's journey began in 2012 when they took on their tenanted unit, explains Andrew who formerly managed a beef and dairy unit. "We started from scratch. Initially, we focused on building the business and in particular, sheep numbers, whilst in 2017 we became a QMS Monitor Farm – it was perfect timing for us; we've since been able to focus on improving technical efficiency. 
"We had been working with various different breeds buying in whatever we could afford, but we weren't getting on great. We'd read about Innovis genetics and we liked the fact that large volumes of rams are performance recorded under huge selection pressure and naturally reared off forage. After investing in our first rams and with the initial crop of lambs on the ground, we quickly realised this was the way to go. 
"We have since introduced a criss cross breeding programme with the Aberfield and Highlander maternal line and split the flock which this season scanned 170%." 30% of selected ewe lambs are retained as replacements from the A flock, whilst the B flock is put to the Primera meat sire and a Continental terminal sire. The Primera cross lambs are hardy, very quick to suck and they're reaching 19kg target finished weight earlier – from 14 weeks, solely from grazed grass and with the entire crop grading within the R specification, or better." 
Andrew continues: "I'm quite happily running rams at a ratio of one to 80 and 80% of the flock is lambing within the first three weeks, in view of the fact the rams are demonstrating such virility that I would happily increase the number of ewes put to one ram." 
Being QMS Monitor Farm hosts encouraged the Marchants to start to monitor and measure grass growth. "The routine has helped us really understand its value and we now use rotational and paddock grazing. Deferred grazing has also made a big difference; we shut off 25ha in early September which we can then graze in January and February, a time when we would previously have had little grass left. We've also grown a second winter forage crop, 7ha of kale and swedes. 
"We've found the Aberfield Highlander ewes are thriving on forage, they are remaining in half a score better body condition throughout," he says adding: "We now have a system with reduced cost per kg and improved flock performance, we feel we have made huge progress and the best is still to come with these sheep."