with thanks to Sam Wilkinson, Levens, Kendal.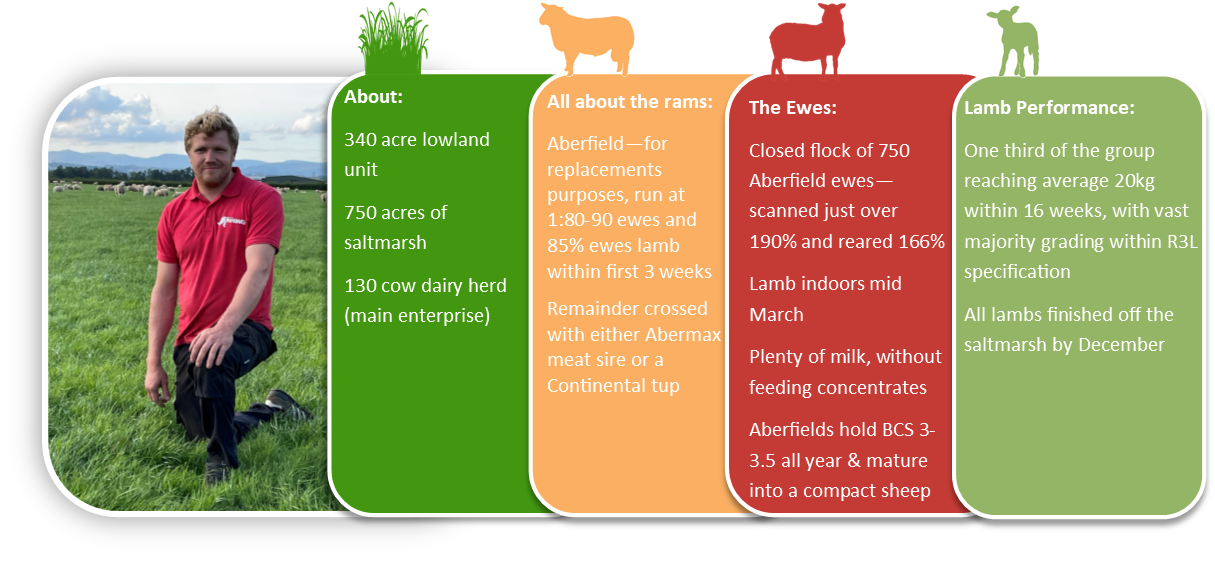 Sheep are proving to be a profitable, future fit complementary enterprise to Sam Wilkinson's dairy herd following a change in breeding and management strategy and introducing Innovis genetics.
"While our 130 cow dairy herd is the main enterprise, sheep have to pay their way too, and I've found swapping traditional bought in Mules for a closed flock of 750 Aberfield ewes to produce lambs for finishing is enabling me to take control, cut costs and make for easier management while achieving satisfactory performance," explains Sam who farms a 340 acre lowland unit with his parents, Roger and Kath near Levens, Kendal, together with 750 acres of saltmarsh.
"Last season the flock scanned just over 190% and reared 166%, while a portion of the flock is bred to the Aberfield for replacement purposes, the remainder is crossed with either the Abermax meat sire or a Continental tup to leave stretchy, fast-growing lambs. I'm a member of the Tesco Sustainable Lamb Group and approximately one third of the crop is reaching its targeted average 20kg within 16 weeks with the vast majority grading within the R3L specification. They'll all away finished off the saltmarsh by December.
He continues: "I'm finding the Aberfields are saving time and attention which is important when labour is scare, particularly when it comes to lambing. And being grass bred and reared they thrive on pure forage diets virtually all year round,' he explains. "We lamb indoors mid-March, turn the ewes and lambs straight out to grass and we're finding the ewes are making great mothers, they've plenty of milk without having to feed any concentrate which is now reserved for twin and triplet bearing ewes in the three-week run up to lambing. Previously we found our Mules were prone to twin lamb disease and we were feeding ewes carrying multiples for six weeks pre lambing.
"I've also found our Aberfields are maturing into a slightly more compact sheep, they're holding themselves in BCS 3.0 to 3.5 all year round. I've gone from running tups at one to 50 ewes, whereas the Aberfield tups have definitely got more power and I've been running them at one to between 80 and 90 ewes and achieving over 85% of ewes lambing within the first three weeks. These tups came out of the field from working in the same condition score as they went in and they haven't touched an ounce of concentrate in their lives, whilst the Aberfield ewes thrive on grazing the paddocks and saltmarsh."
The Wilkinson's decision to close the flock and grade up the existing Mules began seven years ago after Sam began seeking to improve its overall efficiency. "I used to buy in Mule replacements, however I was also buying in disease. Up to 40% of the hoggs were infected with Borders disease and aborted, whereas nowadays, I never had an incident, and whilst the flock is closed, I'm re-assured that the tups I'm buying in from Innovis have all been MOT'd, quarantine drenched and are accompanied with comprehensive health treatment records.
"Also coming from a dairy background, I can totally relate to Innovis and the fact all its tups are performance recorded and forage reared. When I'm buying a Holstein bull or semen, I look at his performance figures and pick the best to fit the system, I don't look at his appearance. The same here when I'm buying a new ram, I check out the performance data in the Innovis catalogue, I trust the figures."
Confidence in the new system has led Sam to gradually expand the flock by 15%. "The sheep go off to graze the saltmarsh from early May through to January returning home to winter on grass silage. They plug the gap complement the dairy herd and equally important, they're providing to be profitable."