with kind permission of Gerallt Jones, Graianfryn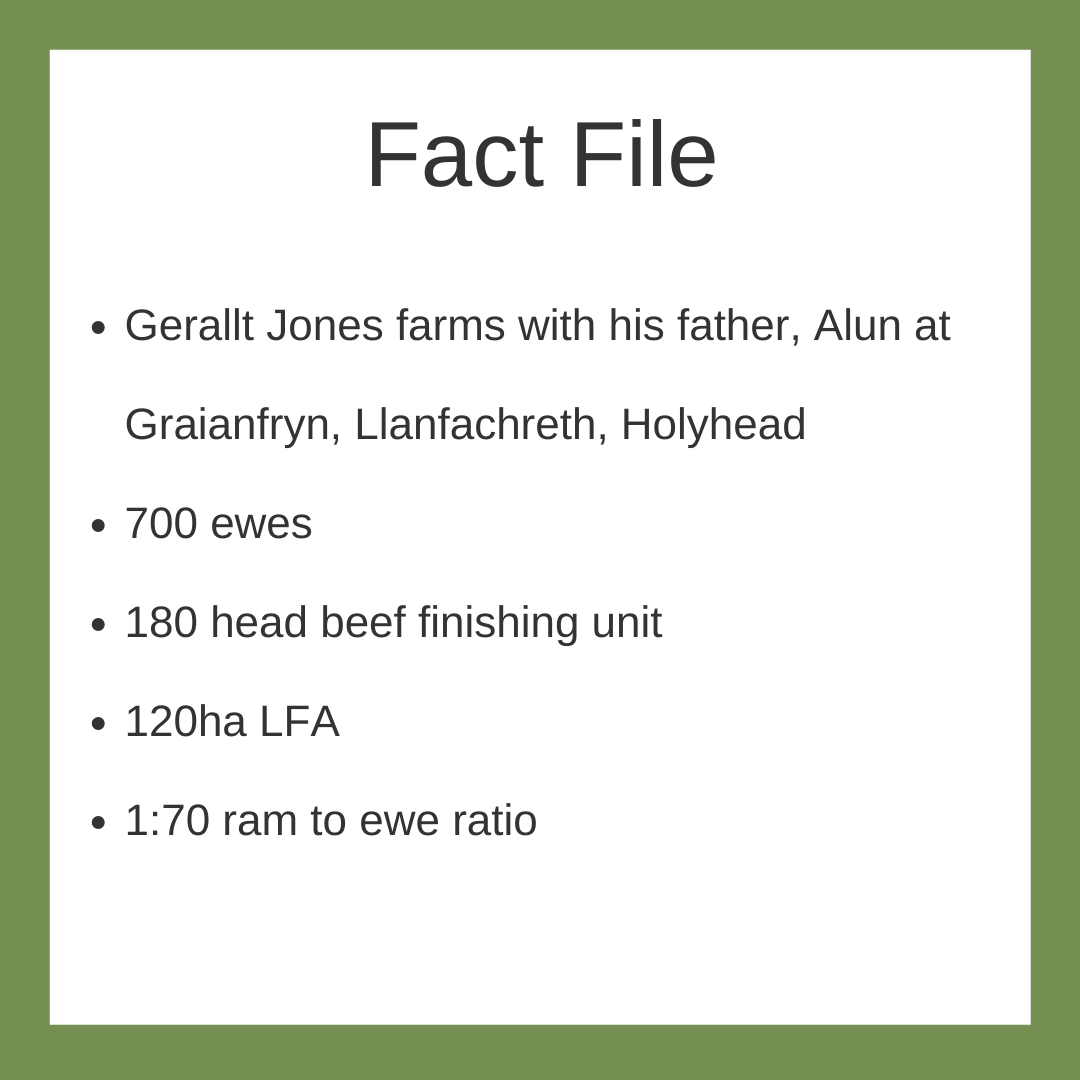 "My farming business is all about producing meat. I'm breeding and rearing lambs to make a profit, and and I'm finding that Innovis meat rams are helping me to achieve my goal.
"I'm producing a mix of Abermax, Aberblack and Primera sired lambs from my late January lambing flock and whilst good conformation is important, it's the speed of growth towards finishing from a sole forage based diet which is critical to success, and I firmly believe it's the way to go in future. 
"This season's first draw reached an average 40kg target liveweight (20.7kg deadweight) at 10 weeks of age; whilst last year 75% of the crop was away by 16-week weaning, and the remainder by 30 June. 96% of all lambs graded the preferred R or better, and 76% 3L or better. 
Gerallt's sheep enterprise complements his beef finishing unit which is dependent on quality silage. "We lamb early and have to finish the lambs as quickly as possible in order to shut up for silage – we target 36ha in one cut in July," he explains. 
"We're fortunate that in a so called average year Anglesey has good growing conditions. We lamb indoors, turn out within 48 hours, and whilst there isn't sufficient grass growth in the new year to introduce a rotational grazing system, we have been able to completely cut out creep by introducing 10ha of forage rape and Westerwolds ryegrass which keeps on growing most of the winter because it's so mild here. We graze the crop from turnout through to April when it provides an entry for a reseed. In fact, the crop works so well, we're looking to increase the area planted next year to 14ha.  
Gerallt says the same management strategy applies to his Innovis rams. "They're forage bred and reared, so on arrival to Graianfryn they continue to thrive on grass, they don't receive a single ounce of concentrate feed at any stage of the year," he says. "In comparison, I used to buy in Continental rams from pedigree flocks, I never knew if I was buying in feed or genetics, and the majority used to go downhill within their first season, so I decided to look for something different and found Innovis rams which are proving to be head and shoulders above what we used to use and that includes ability to last. 
"The first Innovis rams I bought will be going in to their fifth season; they're still fighting fit and healthy, and whilst I'm expecting all my rams to last a minimum of four seasons, I'll be investing in more this year and I will buy online. It's something I've done for the last three consecutive years and it works for me.
"Last season, we introduced the rams in a ratio of one to 70 ewes and 90% lambed in first three weeks.
"I need rams that are going to deliver profitable lambs. Looks don't matter. I go for the breeding potential. I check out the breeding Index, after which I'm happy for Innovis to choose the ram. There is an element of honesty and trust and I know they come with high health status," he says adding: "If there is an issue, then Innovis stands by its word; overall, I think it's doing a good job in the supply chain, and for me it's helping to achieve profit."
If you would like to learn more how our meat sires could work for your farm, visit our Meat Sires page. Find your regional sales adviser to discuss your options here.