with thanks to Chris Berry, Higher Thornton Farm, Exeter, as featured in the NSA Sheep South West Event Guide .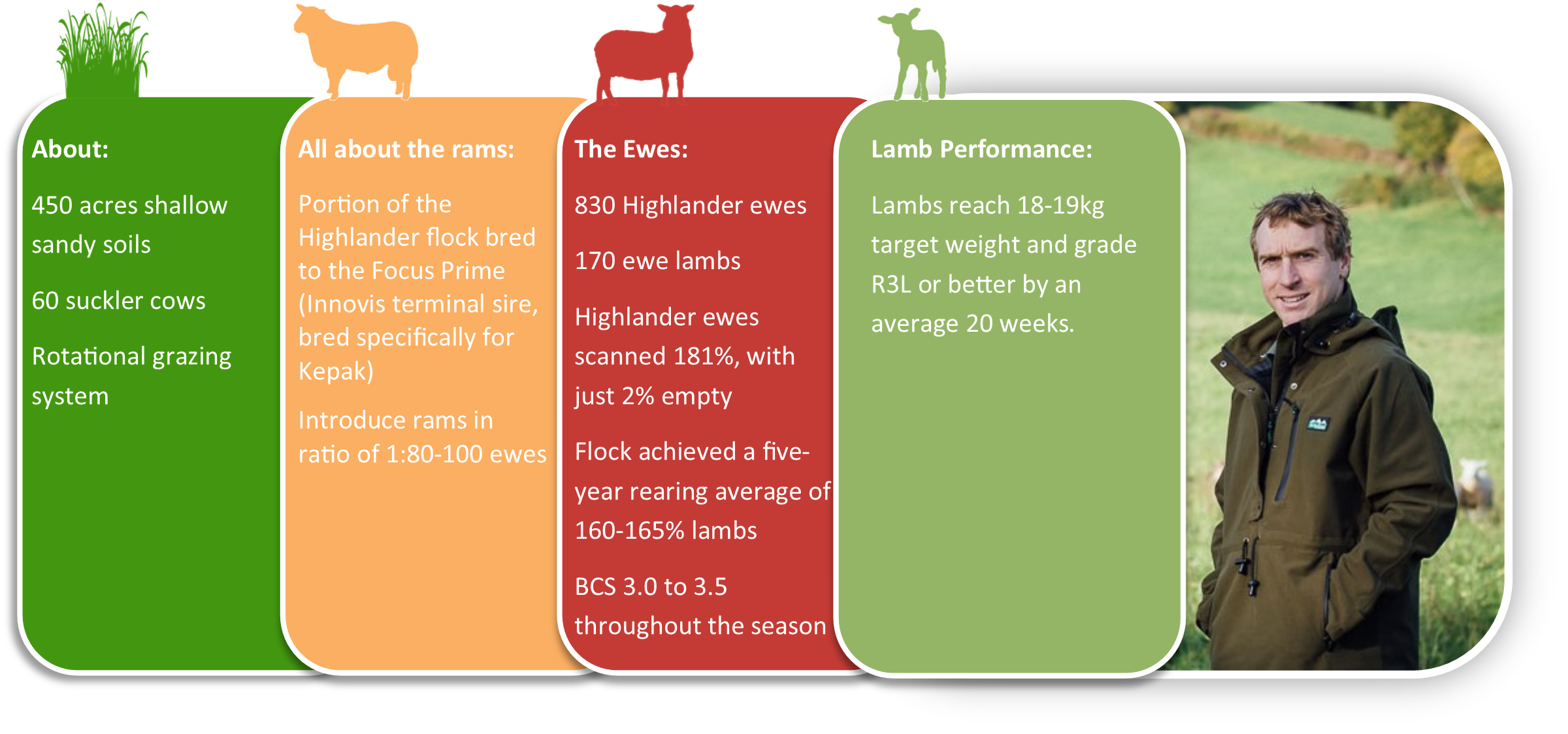 Adopting a relatively high output, low-cost forage-based sheep enterprise with the complementary Highlander is the way to go, says Exeter based Chris Berry. "I'm as confident as I can be that our system is proving to be sufficiently resilient and profitable going forward under the new support regime without relying on payments.
"In the last five or so years we've turned around what was a traditional high input sheep enterprise; we've reduced purchased concentrate by 95%, fertiliser by 55% and we've cut the fuel bill while increasing output of lamb and cattle from 240kg/ha to 280kg/ha," he explains.
"Despite the 2022 drought combined with the fact our farm is within one of the driest parishes in Devon, our Highlander ewes scanned 181% with just 2% empty. The flock has achieved a five-year rearing average of 160-165% lambs, a volume we're happy with for a March outdoor lambing system. Fertility is reflected in the entire flock lambing within 35 days. Ewes are maintaining themselves in BCS 3.0 to 3.5 throughout the season and averaging four to five crops. Add together the performance benefits and they're also contributing towards reduced emissions."
A portion of the Highlander flock is bred to the Focus Prime, a terminal sire from Innovis bred specifically for Kepak. "We introduce the rams in ratio of one to 80-100 ewes. Lambs reach 18-19kg target weight and grade R3L or better by an average 20 weeks."
Chris who farms in partnership with his parents, Michael and Michele says he experienced that light bulb moment after spending time studying in New Zealand and witnessing successful low input systems.
"I returned home to lambing 650 ewes, they were a lot of work and I was aware labour would be a future issue. Around the same time, I heard about the New Zealand bred Highlander from Innovis; here were genetics that could work hard for us instead of us working hard to manage the sheep." In 2015 the Berrys agreed to a transitional change from split lambing to one March outdoor lambing group, grade up their traditional Mule and Lleyn cross flock to Highlanders and introduce a rotational grazing system.
"Nowadays I have help at lambing from one apprentice working a nine to five day. We check the flock three times daily and intervention is running at an acceptable 2-3%. Motherability is good, the ewes have well-formed udders and plenty of milk, they keep an eye out for their lambs, while the lambs have that essential vigour which makes them a lot less vulnerable to predators and inclement weather," he says adding: "We've established a solid platform going forward but there's always room for improvement, and for us that includes improving soil health."