with thanks to farm manager Tim Crossland.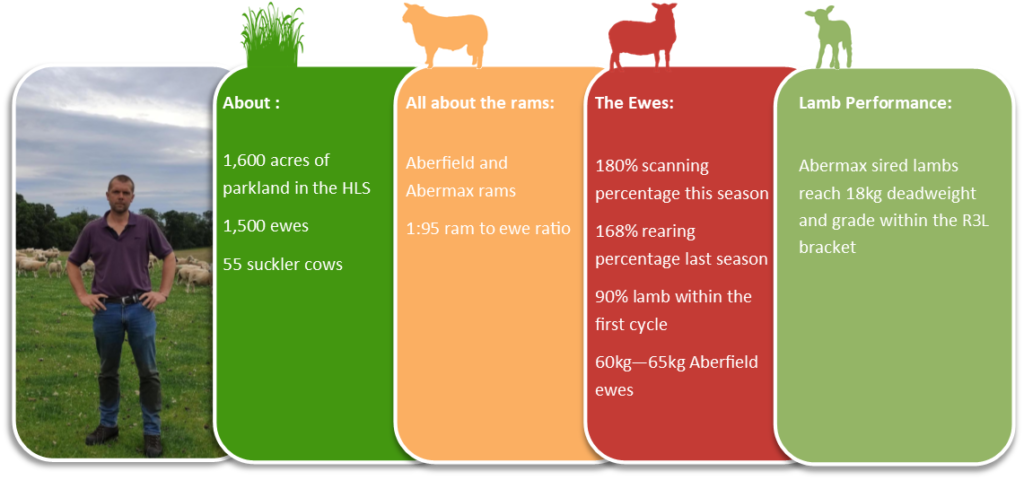 Stripping out costs and maximising performance from homegrown forage with an Aberfield cross flock is the future of Park Farm's sheep enterprise, one of Northumberland Estate's Alnwick based in hand managed units.
"Quite simply, we're continually driving for efficiency and sustainability to maintain a profitable enterprise which has led us to focus on making the most from what we've already got and that's grass which amounts to 1,600 acres of parkland all of which is in the HLS," explains Tim Crossland who manages the unit carrying 1,500 ewes and a 55 cow suckler herd alongside a shoot.
"We've adopted a sheep breeding strategy with the Aberfield which delivers a ewe that will carry herself on forage – permanent pasture full of old grass species, supplemented with silage in the 10 week run up to outdoor lambing commencing mid-April by when we're seeing an upturn in the weather and the ewes lamb down on a spring flush of grass.
"2021 and the flock reared 168%, this season it scanned 180%, 90% lambed within the first cycle, the majority were unassisted, they milked well and the lambs were thrifty and soon up and sucking," explains Tim who oversees the livestock unit single handed with part-time help during the main three week lambing period.
Ewes and lambs are set stocked in the parkland for lambing and mob grazed thereafter. A portion of the flock is put to the Abermax meat sire; lambs reach 18kg deadweight and grade within the R3L bracket.
By the time grass growth starts to curb in October, any lambs remaining around the 16kg deadweight mark are sold and the remainder are sold as stores. "We have a clear out," says Tim. "Grass is a valuable commodity here which is retained for overwintering the flock which is restricted to certain grazing areas by the Estate's shoot."
Tim began to slowly transform Park Farm's existing flock, expanding on the Perendale which formed 50% of the inherited flock, when he was appointed to manage the unit four years ago. "I wanted to close down the flock for high health reasons and breed our own replacements, and since this is a completely enclosed walled unit, it was a no brainer," he explains. "I'd previously worked with Aberfield genetics from Innovis and liked the fact here was a sheep that would match our system being forage bred and reared; Innovis genetics are also performance tested under pressure, so it seemed the logical route to go.
"Our Aberfield ewes are averaging 60kg to 65kg mature weight compared with traditional breed hungry ewes and require less feed and offer us the potential to increase stocking rate."
Maintaining ewe body condition score on a forage-based diet throughout winter is vital, Tim explains. "Six weeks pre tupping we check every ewe, and any scoring 2.5 or below is culled. We're finding all the Aberfields are holding themselves well at BCS 3.0. We don't need to flush and we introduce the tups in a ratio of 1:95."
He adds: "Whilst we have proved we can successfully run a profitable flock on old permanent pasture, there's always room for improvement. We are continuing to carefully select Aberfield tups with a high EBV for motherability, while we will continue to cull on body condition score, together with lameness and teeth.
"We are also focused on improving the soil, after all it's the farm's foundation. Annual lime application together with aeration and spring time harrowing is encouraging clover to naturally return, and overall better quality grazing. We are also planning to introduce the unit to Mid-Tier and SFI which will provide an opportunity to introduce herbal leys, added together these benefits are set to further enhance the flock's sustainability and subsequent profit.