[et_pb_section fb_built="1″ admin_label="section" _builder_version="4.16″ min_height="1458px" custom_margin="||-9px|||" custom_padding="0px||0px|||" global_colors_info="{}"][et_pb_row admin_label="row" _builder_version="4.16″ background_size="initial" background_position="top_left" background_repeat="repeat" min_height="1466px" custom_margin="|auto|-110px|auto||" custom_padding="6px||2px|||" global_colors_info="{}"][et_pb_column type="4_4″ _builder_version="4.16″ custom_padding="|||" global_colors_info="{}" custom_padding__hover="|||"][et_pb_text admin_label="Text" _builder_version="4.16″ background_size="initial" background_position="top_left" background_repeat="repeat" global_colors_info="{}" min_height="2372.3px"]
with thanks to Hector Meanwell, Low Borrowbridge Farm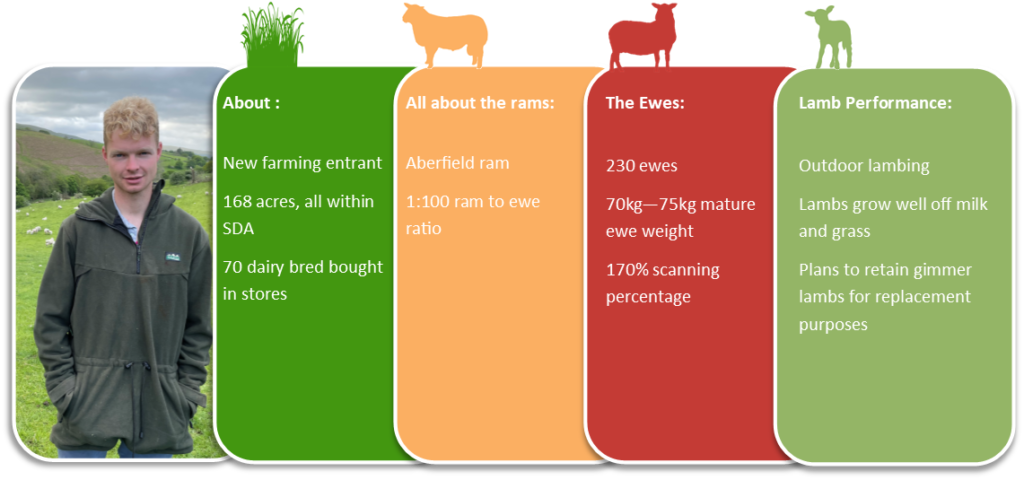 New farming entrant, 22-year-old Hector Meanwell has a five-year vision for his challenging Cumbrian hill unit. "It's got to be sustainable, so I've introduced a low input, low cost strategy focused on doing as much as we can for the environment without compromising the farm. I want to produce as much food as possible," he explains.
"Sheep make up the main enterprise and I started off buying Rough Fells and Welsh Hill Speckled Face ewes that I've started to cross with Innovis genetics which suit me since they're forage bred and reared. I got lucky last year and won an Aberfield ram in an Innovis prize draw.
"I'm now building an Aberfield cross flock which will be totally forage based enabling me to cut out expensive bought in concentrate," says Hector who has commenced his journey farming mainly at 35o on a thin slice of land near Tebay, sandwiched between the M6 and River Lune.
"I'd worked with Aberfields on previous farms, and I knew they made good mothers and can rear a good smart lamb. They mature into smaller more efficient ewes around the 70kg to 75kg mark, so I'll have the opportunity to up stocking rate. Some of our native bred ewes are monsters, weighing up to 90kg."
So far, so good, he says. "Compared with our previous Continental ram which I've consistently run at 1:60 ewes over the last three to four years, we introduced the Aberfield ram in a 1:100 ewe ratio for two weeks, the ewes scanned at 170%, and 95% lambed within the first cycle. They lambed outdoors really well with only one ewe requiring assistance. The lambs are growing on well off milk and grass, and I'm planning to retain all the gimmer lambs for replacement purposes, while the rest will be sold in the store ring, its more cost effective than finishing."
Hector grew up on a 30-acre smallholding in west Cumbria before realising a career ambition to farm four years ago when his family secured Low Borrowbridge Farm. Farming in partnership with his mother, Andrea, he says: "I've a lot of work to do on this unit to get to where I want to be. The majority is rough grazing with just 27 acres of silage ground that's suitable for improving, however it's really hard to access with machinery and equipment. But I'm planning to reseed and also grow fodder beet for the ewes in the final six weeks before lambing so I can cut out concentrate. I'd also like to start rotational paddock grazing, but for the time being we're being as self-sufficient as we can."
The Meanwells have introduced the improved grassland into the SFI pilot. Some land is in Mid Tier Countryside Stewardship and the 12 acres of woodland are in Higher Tier. They have also been accepted for the Farming in Protected Landscapes and the Lake District Foundation's More Hedges grant schemes while the Yorkshire Dales Millennium Trust has enabled them to plant 1,400 trees. They have also introduced 3.5 miles of fencing and 14 new gates.
"We are using those various support payments to help grow the business. Without them and there would be a fair big hole in the accounts."
There's the time scarcity factor adding to the challenge too. Hector is also full-time shepherd for the Ernest Cook Trust's Low Beckside Farm, Mungrisdale. "I will have to continue to work off farm to help pay the rent, that's why I want a flock that's not only efficient but also easy to manage. I want to have a life too, and YFC is a big part of it; I'm an active committee member of Eden Valley YFC."
Want to get your hands on an Aberfield ram? Book onto a Ram Selection Day today at either Lockerbie, Exeter or Aberystwyth. Book here.
[/et_pb_text][/et_pb_column][/et_pb_row][/et_pb_section][et_pb_section fb_built="1″ theme_builder_area="post_content" _builder_version="4.17.5″ _module_preset="default" custom_padding="||0px|||"][/et_pb_section]