with thanks to Anthony Baggaley, Reaseheath College Shepherd.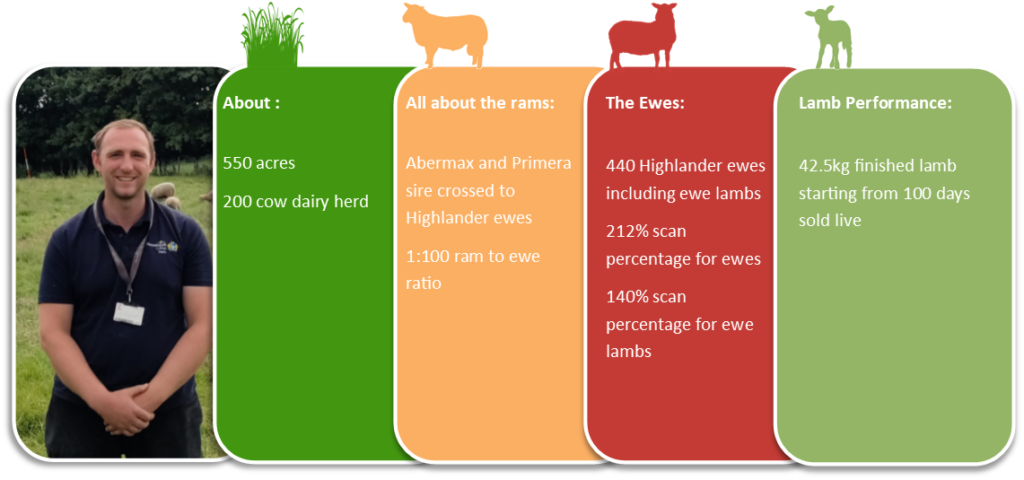 Replacing a traditional flock for the Highlander has introduced new opportunities for managing a low input, forage based sustainable sheep enterprise, says Reaseheath College shepherd, Anthony Baggaley.
"The Highlander is forage bred and reared and matures at a smaller 60kg to 65kg compared with our previous 80kg traditional bred ewes, enabling us to increase stocking rate and expand to 500 ewes, and equally important to build a self-replacing flock that's very consistent," he explains.
"We're also finding that crossing the Highlander with either the Abermax or Primera meat sires can achieve a 42kg to 43kg finished lamb from forage which we are selling through the local live ring at an average 17 weeks. Previously we had to grow our traditional bred lambs to 50kg to achieve that necessary finish."
Reaseheath College's decision to invest in the maternal Highlander in 2021 was led by its drive to demonstrate best practice and improved efficiency. "The flock serves as a teaching and research resource and we wanted to close it down in order to minimise disease and show students how to successfully manage on a grazing system. Sheep also provide a complementary enterprise to the dairy herd grazing areas of the farm – riverbanks and permanent pasture, unsuited to the cows and heifers.
"I'd seen the Highlander working over the hedge and on friends' farms and decided these genetics were future fit. You can't knock them," Anthony says, and this season's performance is proving his point. "We synchronise lambing specifically for the two annual Lambing Weekends we host in early March and to which thousands of families attend. Whilst we lamb indoors to aid student experience, I'm confident we could comfortably lamb outdoors, both ewes and ewe lambs lambed with minimal intervention, they made for great mothers taking their lambs with them and providing plenty of milk.
"We turned them out 36 hours after lambing on to a rotational grazing system, moving them on every four to five days. We stock at five ewes and lambs per acre and complete one rotation around the farm within 25 to 30 days depending on the season." The Abermax and Primera cross lambs averaged 0.295kg DLWG to 77-day weaning.
Last winter, the ewes thrived on forage-based diets. "We farm on heavy clay and have no real option but to house the ewes eight weeks prior to lambing, however we were able to save money by cutting out all purchased concentrate; the Highlanders kept their condition on a red clover grass and maize silage mix, and noticeably suffered no prolapses."
To the future and Anthony plans to realise an ambition to farm in his own right and has already made a head start with the College agreeing him to secure a half share of the flock. "The Highlander has opened the door not only to a low input relatively high performance system but also the opportunity for building assets with self-replacements for an enterprise of my own."