with thanks to Peter Lowe, School Farm, Stafford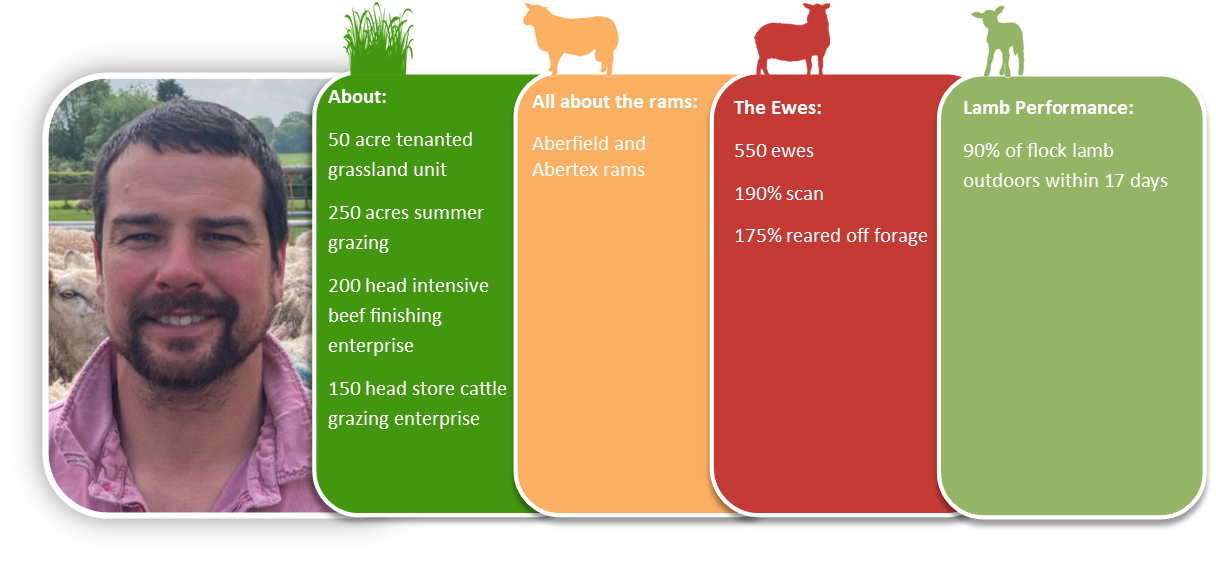 Peter Lowe says he's found a winning formula by combining a low input grazing system with high performance tried and tested Innovis genetics. "They have enabled us to rapidly change our flock and production system and in turn reduce workload, increase output, and deliver greater profits across our whole business. Our Abertex cross Aberfield flock is achieving an average 190% scan, 175% reared and the entire crop is finished off forage.
"I've stripped out costs, both fixed and variable by swapping traditional March indoor lambing, which was labour intensive and required a lot of costly concentrate, for outdoor lambing in April," explains Peter who farms in partnership with his wife, Pip near Eccleshall, Staffordshire.
"Nowadays almost 90% of the flock lambs within the first 17 days in paddocks very tightly stocked at 12 ewes per acre. For most of the year I can manage the business singlehanded apart from during lambing. Moving to a grazing based lambing system means we no longer need to buy in grain-based feed – the flock thrives on quality forage, with mineral supplements given at flushing, in the six weeks running up to lambing, during lactation and when finishing.
"However, to make this system a success, I'm completely reliant on Innovis genetics which are suited to the system – they're forage bred and reared, all performance recorded under intense selection pressure and come with proven health records," he says.
Peter's goal after quitting his job as a chartered surveyor and taking on the 50-acre tenancy in 2012, was to develop a strong and robust business with few or no government support payments. With little capital he initially bought North of England Mules. "I bred them to pedigree Texel rams which just wouldn't stay alive. I needed an alternative. I happened to stumble across Innovis at an NSA Sheep Event and I haven't bought a ram from anyone else since. We're now expecting our Innovis rams to work for at least five seasons with just two rams covering between 150 and 200 ewes.
"After investing in our first Innovis rams we decided to switch to a closed breeding flock, initially with the aim of improving its health, but it quickly became apparent that the Innovis genetics would offer us much more, and we started the process of transitioning to a low-cost outdoor lambing, entirely forage based system."
"I've since introduced a criss cross strategy with the maternal Aberfield and the Abertex and am now in to the third and fourth generation of homebred ewes; they hold their condition in BCS 3.0 to 3.5 throughout the year and produce ample milk.
"Late summer, early autumn is typically a period when we have been short of forage, so getting lambs finished and away in the summer has always been a challenge. September weaning seems to suit us much better, the lambs tick along nicely growing their frames ready to put on flesh later in the year." Lambs are initially weaned on to a mustard catch crop before moving on to rented winter tack grazing grass, growing cereals or roots.
For the last two years, Peter has supplemented grazing winter grass with autumn sown cereals, while this coming autumn he intends to experiment grazing oilseed rape. "We're turning back the clock to a traditional livestock and crop rotation system which went out of fashion when herbicides were introduced. Nowadays, electric fencing and portable sheep handling systems are enabling us to operate an efficient system between several different blocks of land while for the arable farmers I rent from, they're able to cut out one herbicide, fungicide and growth regulator application from their seasonal programme as well as benefit from added fertility to the land."
He adds: "I regard this new practice as offering real growth potential for the business. If I'm able to graze more arable land, then I could finish more lambs.