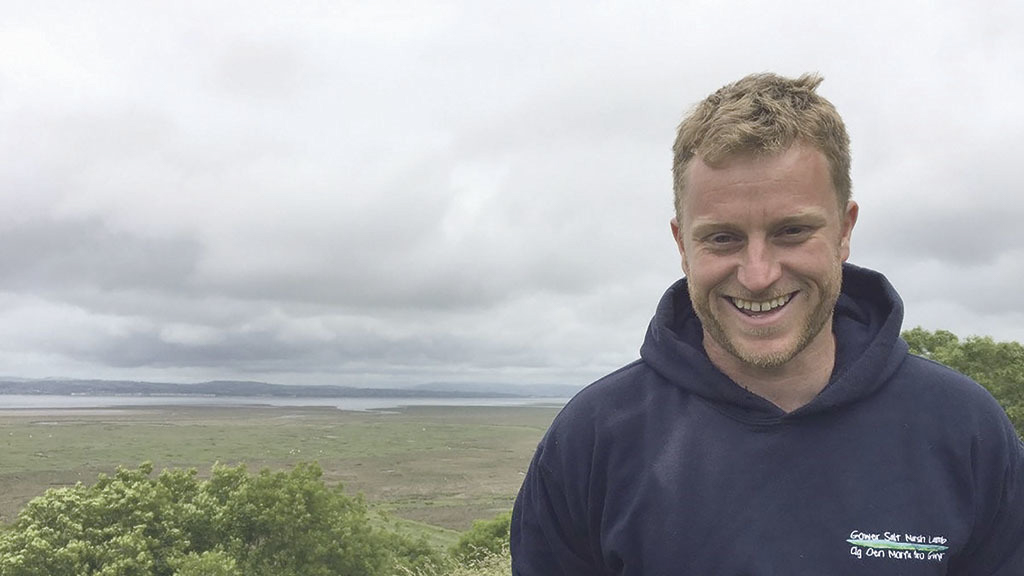 Dan Pritchard's Gower Salt Marsh Lamb enterprise has gone from strength to strength in the last 10 years; in fact, soaring consumer interest has led to a 25% increase in demand in the last 12 months to 1,000 lambs representing 70% of the entire crop. 
Dan together with his father, Rowland manage a 1,000-ewe flock comprising mainly Welsh Mules crossed to the Primera meat sire. The flock is one of seven sheep flocks with common rights to graze 4,000 acres of Gower peninsular salt marsh, an operation governed by tides; sheep are moved on and off the salt marsh depending on the height of the incoming tides, with sheep normally spending two weeks grazing the marsh followed by a week in close by fields waiting for tides to lower.
"We are continually seeking to keep costs as low as possible and run a sustainable enterprise without payments. Four years ago, we introduced Innovis genetics to help develop a simpler more efficient system and the decision is paying off.
"There were two main factors involved. For starters, speed of growth; all our salt marsh lambs are finished to average 19kg target weight and within the R specification, from a sole grazing system. Lambs are averaging 280g/day in what is a very tough environment and they start to hit target weight within 12 weeks, and then a constant supply is needed to keep up with orders.
"Secondly, ease of lambing is critical and introducing the narrow-shouldered Primera is proving a success. For the first time this year we had sufficient confidence in our genetics to lamb the entire flock outdoors commencing early April. That enabled us to make significant savings by reducing the team from three plus a student to just two people making checks three times a day.
"Furthermore, we buy our Primera rams on-line, it makes life a lot easier and saves me having a day out at the auction. They are performance recorded and reared of sole forge based diets consequently they stay in the same condition all year round. Last season we put the rams to the test and ran them at a 1:100 ewe ratio with success – the flock achieved a 170% scan, 10% up on normal years and 80% lambed within the first three weeks."
He continues: "In the last two years we have introduced the Aberfield which compared with the Welsh Mule is a smaller ewe, tipping the scales at 70kgs mature weight. Whilst we are keeping an eye on how these two damlines compare, the Aberfield ewes are proving to be more efficient, eating less and when crossed to the Primera their lambs are hitting the R3L more times than the industry average, with 86% hitting market spec in 2016 and 80% hitting spec in 2017 and half of those graded R3L."
Dan adds: "We believe we have developed the business to such a degree that it should be able to survive future uncertainties, however we will continue to improve the unit's efficiency at every possible turn."