This article was first published in the Farm North East Magazine, October Edition
Introducing Aberfield genetics to a 500-ewe crossbred flock in the last decade has given Ballogie a head start towards future proofing the enterprise ahead of Brexit; change is continuing and the next step include defying current trends and expanding the hill flock.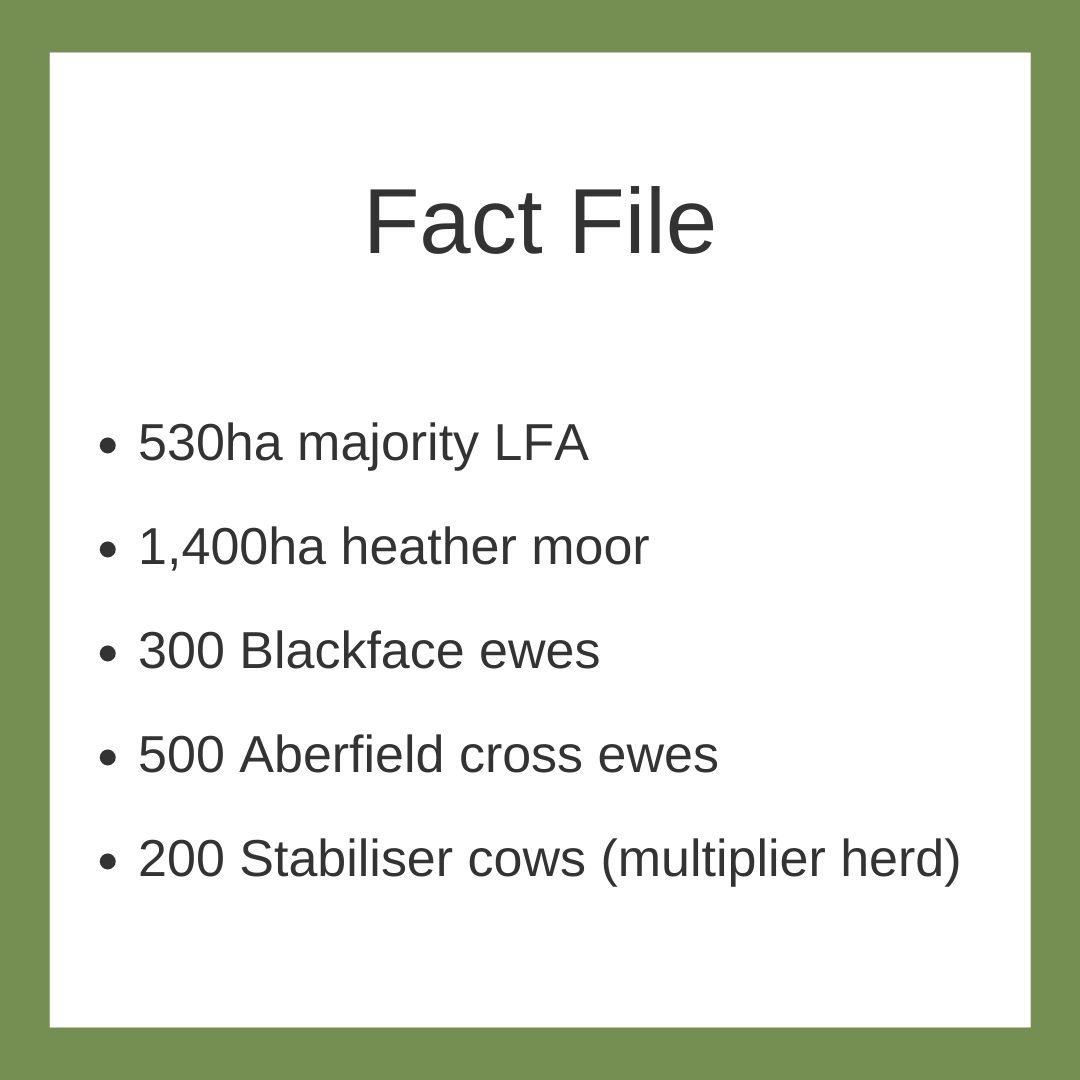 "We are profit driven business and as far as the sheep enterprise is concerned, we are attempting to maximum output per ewe from a low cost forage based system and so far, we are pleased with the results," explains farm manager, Ian Gauld.
"Ninety per cent of the 500 ewe flock lambs outdoors commencing 10 April. We introduce the Aberfield ram to the Aberfield cross ewes in a 1:80 ratio and 80% lamb within the first three weeks. This season ewes and gimmers combined scanned 192% and are on target to achieve last year's performance of 173% reared which not only demonstrates prolificacy but also low mortality.
"These ewes are easily lambed – the entire flock is managed by just one person at lambing, they are great milky mothers and they look after their lambs which have vigour and soon get up to suckle."
Ballogie took the decision to introduce the Aberfield 12 years ago after deciding that flock health and market volatility were sound reasons to stop buying in Continental cross ewes for replacement purposes and start breeding their own replacements from a closed flock. The business was also looking to produce lambs, in particular wethers, that would fast finish without any form of concentrate.
"We had heard about Innovis genetics and we agreed a trial by putting the Aberfield over Blackface ewes. We started to expand the flock, and the rest is history. The flock has expanded by 60% to its current size and has now virtually reached pure Aberfield status," Ian explains. "Since it costs more to feed a bigger ewe, and big is not necessarily best, we have selected for a smaller ewe, an average 60kg mature weight.
"Whilst the Aberfield is essentially a maternal breed, we find that the wethers together with the ewe lambs surplus to requirements are reaching an average 38kg liveweight finishing weight following a 12-week weaning. Despite this season's poor grass growth and quality, 40% of the crop were finished by 20 weeks in mid September, whilst 90% of the crop could be finished by November, however we like to put our eggs in more than one basket and play the market; we store the lambs until prices start to lift again from October and finish off grass and fodder crops," Ian explains. "They are average 19kg to 20kg and grading literally nothing less than R3L, with a good percentage in the U specification and several Es.

"We have also swapped a Continental ram for the Primera meat sire to put over the gimmers and the older ewes which has resulted in improved lamb growth rates and overall efficiency."
Ballogie's hill flock is demonstrating equal dynamism and there are plans for expansion. "The Blackface flock is integral to the sporting activities on the heather moor. However, we believe there is a lot of potential to do more with the hill by the upping numbers and improving overall output. Sheep are one of the best management tools on a hill for both ticks and heather."
Plans are to expand by 40% to 500 Blackface ewes and also add value by introducing the Highlander maternal sire. "We are watching the Highlander's performance on other units and we are keen to put over a portion of our flock to produce and retain selected gimmers for breeding purposes to achieve a higher performing ewe and faster finishing higher carcase value wethers over pure Blackie lambs.
Ian adds: "We want a sheep enterprise that is fit for the future within the family estate which has a very diverse range of activities from the farm and property lets to shooting and fishing and a café and restaurant. We like to keep moving forward; there is always a way for improving what we already do and Innovis genetics are so far proving to deliver for the sheep enterprise."
If you would like to learn more about Innovis genetics and how they could work for you then please get in touch on 01970 828236.