by kind permission of Patrick Wilson and family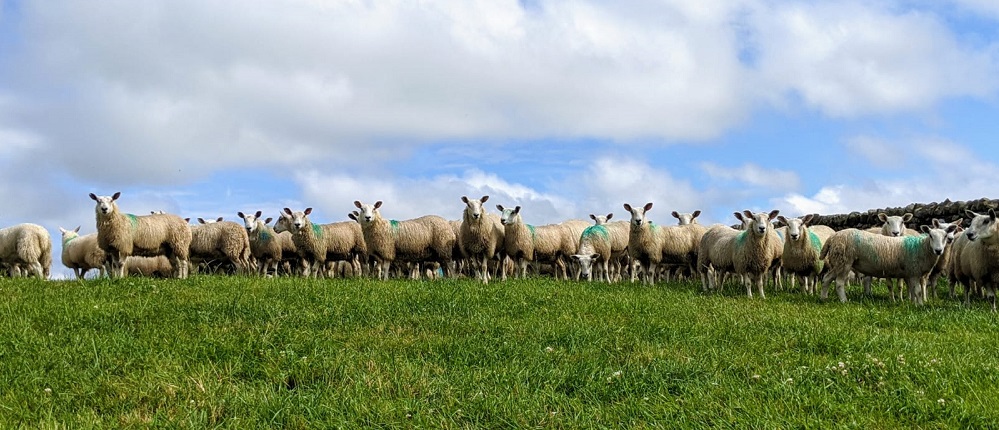 The Wilson family are focused on evolving from a traditional hill sheep and suckler unit in to a profitable farming business without support payments, says Patrick Wilson. 
"We are running the farm as a business; whilst we enjoy the job, we have to make a profit at the same time and we're fully aware that the brown envelope money is soon going to stop," explains Patrick who farms the tenanted unit in partnership with his parents, Tony and Barbara, and assisted by his partner Abby Blackburn.
"Consequently, we are taking a 360 approach and have introduced various changes in the last 10 years – some are clearly designed to enable us save money and others to make a difference, for example ease our way of life and save on labour – I also have a part time plumbing business. It's a case of striking a balance."
Biosecurity was high on the agenda and the Wilsons agreed that establishing both a closed flock and suckler herd was the way to go. "We used to annually buy in Mule gimmer replacements to put to a Continental tup, however we found we were buying in all sorts of problems, for example abortion incidence was running at 2% amongst the Mule ewes and we had to feed hard, so we decided to introduce a strategy featuring the Aberfield maternal sire to breed our own replacements – we're heading towards a three-quarter bred Aberfield cross Mule, and eventually plan to sell any surplus to requirements whilst being able to offer quality wethers, either store or finished off forage diets.
"We had started to use EBVs to develop the suckler herd, so choosing Innovis rams backed by performance data came naturally. We could pick out certain EBVs from the catalogue and tailor make the ram to our requirements. The added benefit was knowing each ram has been produced under a comprehensive health screening process."
"When I first considered investing in an Innovis ram, cost was an issue; the price was the most we've ever paid for a ram," says Patrick Wilson. "However, when I started to work out that figure in terms of ram ratio per ewes and the number of seasons we expect him to work on the farm, then it was easy to justify.
"We have built a team of six Aberfield rams; we run at a ratio of one to 90 ewes; we purchased the first two four years ago, they're still looking fit and we expect four to five seasons from them. In comparison, we've been running our Continental rams over almost half that number of ewes and they last on average three to four years. The bottom line is our Aberfield rams are tupping twice as many ewes over their respective lifetimes compared with what our Continental were achieving."
Introducing new genetics to West High Wood has brought a sea change in overall flock performance including cutting concentrate costs by approximately 15% whilst abortion incidence has reduced to a low level of 0.1%. "Aberfield rams are grown out of forage based systems, they have good feet and legs combined with power. They graze during spring and summer and unlike the high maintenance Continental rams, the Aberfields don't need troughing, they're fit and ready to start working.
"The Aberfield cross shearling ewes this year scanned an average 177%, all those carrying twins lamb outdoors from 1 April and 94% of the crop lambs within the first three weeks. These motherly ewes lick their lambs and let them suck without batting an eye lid, they've well suspended udders and neatly placed teats that are easy to latch on to saving us time helping out newborn lambs, and they've plenty of milk solely from grazed grass supplemented with Magnesium licks.
Aberfield cross ewes are maturing at 70kg, slightly smaller than the Mule ewes and a significant 30% lighter than our Continental cross Mules, another factor which Patrick says is helping to improve flock efficiency along with the Wilson's change to grazing management. "We swapped traditional set stocking on the in-bye for rotational grazing clover rich paddocks; we are now literally doubling stocking rate to between 20 and 25 ewes and twins per hectare which has enabled us to shut up more land for silage, introduce a multi-cut regime and stop tarmac farming; we no longer need to rent grassland 10 miles away. Rotational grazing has introduced flexibility to the system and we're achieving more kilos per hectare."
Patrick adds: "Nowadays, there is so much information available on how farmers can improve their production efficiency, you have to seriously examine it and see what is appropriate to take on board. We are embracing, making incremental changes that are making a difference towards future proofing the flock."
If you think that Patrick's approach could work for your system, get in touch with Claire in Northern England and the Scottish borders on 07739 096999 or Karyn in Scotland on 07854 759660.