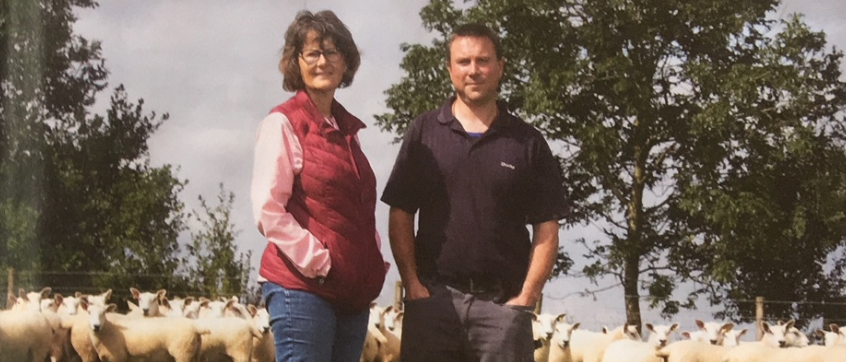 When Hough Park Farm, Ashbourne, Derbyshire, came up for sale in the early 2000s it was bought by Julia Howard and her husband Ian with a sitting tenant who had control of about two-thirds of the 170 hectares (420 acres) of land.
Initially, Mrs Howard bought a flock of 50 pedigree Lleyn sheep.
She says: "I really liked the pure Lleyns, they were smaller, really prolific and milky and the carcasses were not bad."
In 2008 the tenant decided to retire out of the blue.
"All of a sudden I went from a manageable amount of land to scary amounts," she adds.
Mrs Howard made the decision to increase the flock size and switch to Mules and Texels.
She says; "They did not do it for me. We had a lot of foot problems, they took a lot of feeding and I was trying to become a closed flock, having to buy in Mules was not helping me towards this goal."
As well as the sheep, Mrs Howard ran a herd of meat goats for about five years.
She says: We were running 750 head, a mixture of Boer and Cashmere goats. They cost a lot to keep and you still need the same infrastructure but I was not getting the same output from them."
They decided to ditch the goats and go into cattle instead. The first cows arrived in 2010 along with shepherd Simon Walsh, who is still an integral part of the team, along with Charlie Ratcliffe, who joined in 2014.
The cattle herd grew and is an important enterprise on the farm, now comprising 50 pedigree South Devon breeding females which are run as a commercial herd.
Calving
Heifers are artificially inseminated to an easy calving Aberdeen-Angus, the cows are kept pure by breeding to a pedigree South Devon bull, and any cows which are not suitable for breeding are put to a Hereford bull.
Following on from the Texels and Mules, Mrs Howard went back to Lleyns and ran a pedigree flock for about four years from 2010.
"We got rid of Mules and restocked with Lleyns. In my opinion they were not as good as the originals. The breed has got bigger; the first lot were about 70kg and the second were about 80-90kg. They were not as prolific and did not seem to do as well."
Mrs Howard was looking for an alternative and was pointed by several people, including vet and university lecturer Peers Davies, in the direction of cross-bred genetics.
"We bought our first four Aberfield rams in 2014. We had culled very hard and the flock was about 450-strong. We ran the tups at a rate of 120 sheep to one ram and it was successful.
"We farm on figures, not on looks. It is the same with the cattle, you look at estimated breeding values with the bulls and we feel very strongly it should be the same with the sheep," says Mrs Howard.
The Lleyns were run alongside the Aberfield ewes initially, but by 2015 Mrs Howard says it was clear the Aberfields were dramatically outperforming the Lleyn ewes so they dropped the Lleyns straight away.
Aberfields have now become the genetics of choice and Mrs Howard's flock has benefitted from improved carcase traits, fast lamb growth rates, easy lambing and all-round improved performance.
She says: "The way I look at it, there is very little you can control in farming but you can control genetics to a certain extent.
The flock now comprises 650 ewes and 250 ewe lambs, with the aim of increasing to 800 ewes.
Mr Walsh says: "The lambs born this year will be nearly 100 per cent Aberfield."
Aberfield rams are used to produce replacements and this year more than 70 per cent of the flock will be mated to them. Abermax or Primera are terminal rams which are used on the ewe lambs and any ewes deemed unsuitable for breeding.
Mrs Howard says: "We use teaser rams to allow us to achieve a really tight lambing pattern."
Teasers are used about 17 days before tupping, and rams are put in on September 20 at a rate of one ram to about 90 ewes. This results in lambing starting on Valentine's Day.
"We find if we lamb earlier we are able to get the lambs away sooner," she adds.
Increased
Mr Walsh says scanning percentage in the ewes has increased since using Aberfield tups from about 140 per cent in 2014 to between 180-185 per cent and the aim is to reach 200 per cent.
Weaning percentage is about 5 per cent lower than their current scanning percentage, but it had previously been about 15 per cent lower with the Lleyns.
Ewe lambs are also lambed and put to a Primera ram. The aim is for them to be 38-40kg at tupping.
Rams go in with ewes for four to five weeks. Ewes are first, followed by the ewe lambs and lambing lasts six weeks.
The ewes are housed from December, usually the week before scanning, and are sheared before they come inside.
"I would like to be able to keep them out, but even though we are on sandy soil, the land does not take it very well," says Mrs Howard.
Ewe lambs come inside about two weeks before lambing, which Mrs Howard says prevents them from getting too fat and allows the shed to empty a little first.
All the ewes are separated into parity groups and then separated again into raddle groups. The raddle is changed every week which gives them a good idea when ewes are expected to lamb.
Mrs Howard says: "Lambing is fast and furious, we know pretty much how many are going to lamb each week and are able to manage labour."
The lambing shed is manned 24 hours a day by Mr Walsh and Michael Scott, who is employed specifically for the lambing period, with the help of Mrs Howard and some other part-time labour.
"We foster all the spare lambs. Simon is brilliant at adopting lambs on and we do not have cade lambs, so once you have opened a bag of milk you have lost your money," she adds.
Inside, ewes are fed a specially grown haylage mix which contains an Italian rye-grass hybrid as well as red clover, providing a high energy and protein-rich ration. This is combined with a high quality, 19 per cent protein cob, high in soya and maize.
"We are careful which ewe lambs we choose to keep," says Mrs Howard.
Females are only retained from ewes which consistently produce multiple lambs which rear two good lambs quickly, especially those whose lambs are finished at weaning.
"We sell quite a lot of breeding stock but never advertise; people usually come to us."
Lambs are weaned at about 12 weeks old and Mrs Howard says they are able to sell a percentage finished straight off their mothers. If not, all the lambs are usually gone by 20 weeks. Previously they struggled to finish the Lleyn lambs and most were sold as stores. Lambs are finished off grass and sold 50:50 deadweight into Dunbia or liveweight into Bakewell market.
Culling
Culling is done for teeth, bags, feet, ewes which are too fat and not reared lambs, prolapses or medical history and maternal ability, given how many lambs they rear (from two shear).
An EID reader is used to track lambs through the system. They are tagged at birth and weighed every two weeks to allow them to record daily liveweight gain (DLWG). On average, the DLWG of the lambs from the main ewe flock is 0.17kg/day and by eight-weeks-old they are averaging 24kg.
Mrs Howard says: "We know exactly how much it costs me to produce the lambs, and I know even this year when the prices are down, we are still making money. Our last lot of fat lambs averaged £73 a head, but we started the season at more than £90 a head.
"Our inputs are low and we are really careful about spending. The only thing I spend money on is labour during lambing to make sure it is done right," she adds.
The farmland is split into small paddocks and they have been mob and rotationally grazed since 2014, which has paved the way for huge increases in growth rates says Mrs Howard.
This year, for the first time, they have grown 4.5ha (11 acres) of maize which will be harvested and stored in an AgBag as well as 3.6ha (nine acres) of barley and vetch which will be baled for wholecrop.
These will be mixed with silage in a tub mixer to allow them to create a carefully formulated total mixed ration to feed the housed ewes during winter giving them more control over the ration and removing the need to buy in concentrate feed.
"We are always looking to make things better and we are preparing for life without subsidies," she says.
"This farm benefits from having cattle and sheep, so there will always be livestock here, but who knows what we will be doing next."