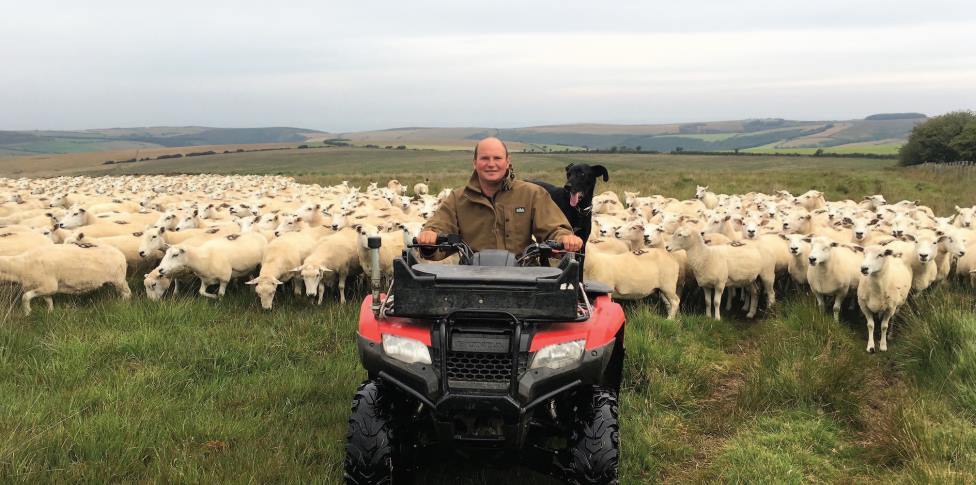 Tom Burge is taking a two-pronged approach when it comes to future-proofing his Exmoor sheep enterprise.
He has already swapped native bred ewes for the Romney cross Highlander and increased lamb output by 40% lambs reared, whilst his next challenge is to maximize the unit's forage and eliminate all purchased feed. It's a strategy farmers will be able to find out more about when he hosts an open evening organized by Innovis and Precision Grazing on Tuesday, August 27.
"I am gearing up to farm for profit in a sustainable manner without payments, consequently any future potential environmental support will be allocated for reinvestment purposes including purchasing more land," says Tom, who is the fourth generation of the Burge family to farm in the Doone valley.
"We've made some gradual yet big step changes in the last 10 years. We used to run 2,000 native-bred ewes rearing just 110% lambs sold at 13kg for the light market. However, times have changed; since being introduced to the New Zealand Highlander we've upgraded the flock with an injection of Romney blood and we are now rearing 160% lambs.
"At the same time, we have reduced ewe numbers to 1,500, cut labour input and are actually producing more kilos of lamb off the farm." He adds: "These Romney Highland ewes are robust medium-sized maturing at 55kg to 60kg suited to this unit including summer moorland grazing, they wean their body weight at 12 weeks and are lasting for an average five crops. They naturally flow more easily and stay together as a bunch making them more straight forward to handle.
"They lamb with very little if any assistance, make excellent mothers with a lovely lot of milk, the second lamb is usually born quickly after the first and the lambs are very lively. Ewes not only look after their own lambs and take them with them, but also readily foster on a lamb." Tom's farming journey began 15 years ago, prior to which he had limited interest in returning to Oaremead Farm.
"I left school and became an agricultural engineer, however back in 2003, I joined some friends on a jolly to New Zealand, and after six months, I found I had made a complete about-turn and returned home a farmer having been really inspired by Kiwi systems.
"New Zealand producers were farming big numbers of sheep managed on pure grazing systems without a tremendous amount of hard work. I decided that was a strategy that could be deployed back home." Tom, who sits on the Exmoor Hill Farming Network (EHFN) steering group, adds: "My ambition continues to be a New Zealand style farmer on Exmoor, and my initial goal was smashed within the first five years in terms of improved lamb production.
"Nowadays we are introducing the top half of the flock to the Highlander or Romney ram in a 100 to one ratio and over 90% lamb within the first three-week cycle; ewe lambs surplus to requirements are in ready demand from commercial producers whilst the remainder are put to a terminal sire for store lamb production. We sell those lambs on the store ring at Blackmoor Gate at an average 30kg from 12 weeks."
Whilst Oaremead is essentially a store rearing unit, nowadays Tom says since introducing the new genetics, the unit has flexibility. Not only is he able to offer higher quality store lambs, but also to add value by finishing up to 400 lambs off grass to an average six months and 17.5kg. His revised goal is to step up that number to 500 lambs.
Tom's next major challenge is to make more from the farm's existing resources. He explains: "In the last two years, we have replaced set stocking the ewes and lambs with rotational, cell grazing system. "We have taken 150 acres of grazing and split the paddocks, each to provide three to four days of grazing taking covers down from 2,000kg to 1,500kg DM/ha. These measures alone are scheduled to provide more grazed grass, sufficient to stock an extra 200 ewes."
Soil sampling, in order to enable any mineral deficiencies to be redressed, have also started. Tom concludes: "Also for the first time this year we are growing a total of 17 acres of swedes, kale and turnips to eke out the grazing and enable us to open up earlier and offer that spring bite sufficient to allow us to progress from day time to 24-hour outdoor lambing.
"That would eliminate all concentrate which is our biggest variable cost and reduce labour requirements to just myself, labour being our biggest fixed cost."