Jimmy and Tom Stobart are farming in partnership with parents, George and Fiona, at Croglin High Hall, Croglin, Penrith.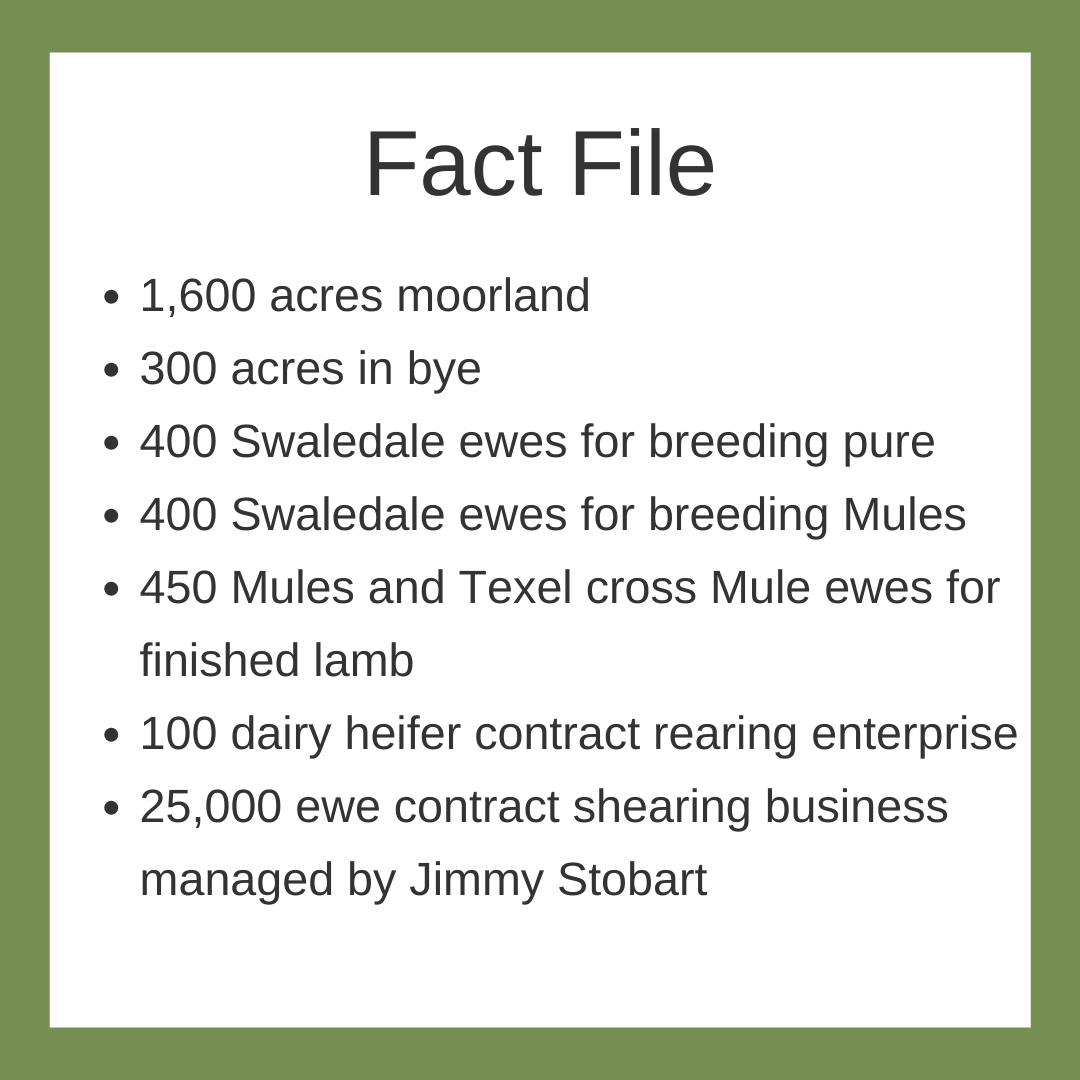 They're not the prettiest of tups according to Jimmy and Tom Stobart, yet the bothers say investing in the Primera is already leaving lambs that are higher performing and in turn, achieving improved margins.
Two thirds of their Primera cross lambs reached average 43kg target finishing weight off milk and grass by weaning at 12 weeks, compared with just one third of their Continental crosses from their Texel Mule ewe flock. And the Stobarts are optimistic the entire crop of Primera crosses will be finished by October, a welcome achievement since last year 50% of the Continental cross lambs were finished off  concentrate.
"Feeding concentrate to finish lambs is no longer viable along with dependence on support payments," says Jimmy. "We thought the sheep enterprise was doing okay but we got a bit of a shock when we worked out the costs and then removed the payments.
"We decided there and then we wanted to develop a successful sheep business that could move away from tradition, stand on its own and be profitable. While we are limited as to what we can change on a 2,000 acre SDA hill unit with 80% in moorland, we agreed we'd reached the point when we had to introduce an open mind to doing a few things differently and the first things we've identified are introducing new genetics – we've chosen the New Zealand Primera terminal sire from Innovis, and a better grazing system. Added together, this is a way of improving output per ewe from reduced inputs," explains Jimmy who has spent time shearing in New Zealand whilst Tom is heading down under later this year to broaden his experience in sheep grassland management systems.
"When the Primera arrived, we got a lot of stick from local farmers – he's not the prettiest of tups, but whilst I enjoy breeding sheep with bonny faces, we know that does not pay. Instead we had made our decision on the back of evidence, the Primera evolved from progeny tested stock in New Zealand, and we watched the performance benefits they left in other flocks.
"We too have been impressed. The Primera crosses were easily lambed – they have narrow shoulders, and they all lambed within the first 10 days. They were soon up and sucking, turned out within 24 hours and since they've motored away – the first draw at 12 weeks averaged 350g/day daily liveweight gain." Consequently, faster finishing means fewer draws, fewer doses, less labour and more grass freed up, says Jimmy.
Their second challenge – making more from grazed grass by introducing a rotational system has been investigated by the Stobarts for the last two seasons. "We've seen other farmers growing up to 30% more grass during the grazing season by stocking ewes and lambs more tightly for short periods before moving them on to the next paddock. We're just starting to learn just how much grass we can grow on this unit and then determining how much will be available for feed."
He adds: "Overall we want to improve our entire flock's genetics with the help of EID as a management tool, however our main flock comprises one breed which has no performance recording and a second with very, very little. We have yet to agree of an overall strategy, but for the time being our challenge is to make the best of the 300 acres of in-bye; see how much keep it can provide and how many more higher performing sheep can be carried – that's our different way of thinking to generate profit and so far introducing the Primera looks very promising."