As featured in The Forager Magazine: Spring 2020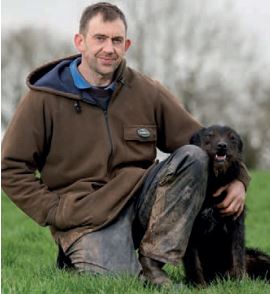 Name: Rich Thomas
Farm: Risbury Court, Leominster, Herefordshire
System: 142ha (350 acres), 330 mostly Romney x Aberfield ewes put to Focus Prime tup. Lambs sold DW, mostly to Tesco. 50 pedigree Hereford cows, 12ha (30 acres) apple orchard, 81ha (60 acres) arable.
As part of the Next Generation series, Aly Balsom of the Forager Magazine, meets Herefordshire sheep farmer and forage convert, Rich Thomas. Experimenting with a red clover and perennial ryegrass mix and splitting the field in two proved the catalyst for change for Rich Thomas. "We finished so many on the second draw – about a third of lambs. We'd never done that before. I had to take half to market as they were out of deadweight spec," he recalls.
He quickly realised that the way to improve lamb performance as cost-effectively as possible was to fully invest in rotational grazing and grass reseeding. Since then, every bit of spare cash has been put into buying fencing and putting in infrastructure for water. Rather than set-stocking a paddock for about a month, sheep are now moved roughly every 2-4 days. Google Maps is used to split fields using GPS and locate fence lines.
Rich farms Risbury Court with father, Robert, who Rich admits has given him "a long rein." Over the last five years, the Suffolk Cross and Texel x Mule flock has been replaced with a mostly New Zealand Romney x Aberfield flock, which will get the most from a simple, forage centric system. Last year was also the first that ewes lambed outdoors.
Grassland has been reseeded using herbal leys including various species such as Aber High Sugar Grasses, timothy, chicory, plantain and AberClaret red and white clover. The varieties add diversity to the mix and suit the farm's ground, which is prone to drying out. The mixes, combined with rotational grazing, proved their worth during the drought when fields remained greener for longer compared to neighbouring ground. Better grass quality has also enabled concentrate to be completely cut from the system.
Next on the list is re-evaluating what height covers are grazed at and adopting a leader/follower system with the cows and sheep, Rich says all of the changes have been focused on creating a more sustainable business. "It's having a system that can survive without basic payments – that's the goal," he comments. "There's nothing you can put in a bag that's better than good, fresh spring grass – that's one of the phrases that goes round in my head." The move is proving its worth with cost of production reducing by 15% in the first year of rotational grazing. Lambs are also finishing sooner with very few now remaining at Christmas and 90% in spec.