Producing tailored made replacement ewes featuring Innovis genetics within a traditional stratified system is proving to be a win win venture for two sheep farming businesses, so much so it could offer a template for other producers to take up.
Ben Anthony and Diana Fairclough have taken annual delivery of up to 170 Aberfield cross Tregaron Welsh replacement ewe lambs in the last three years that have been bred and reared by Irwel Jones.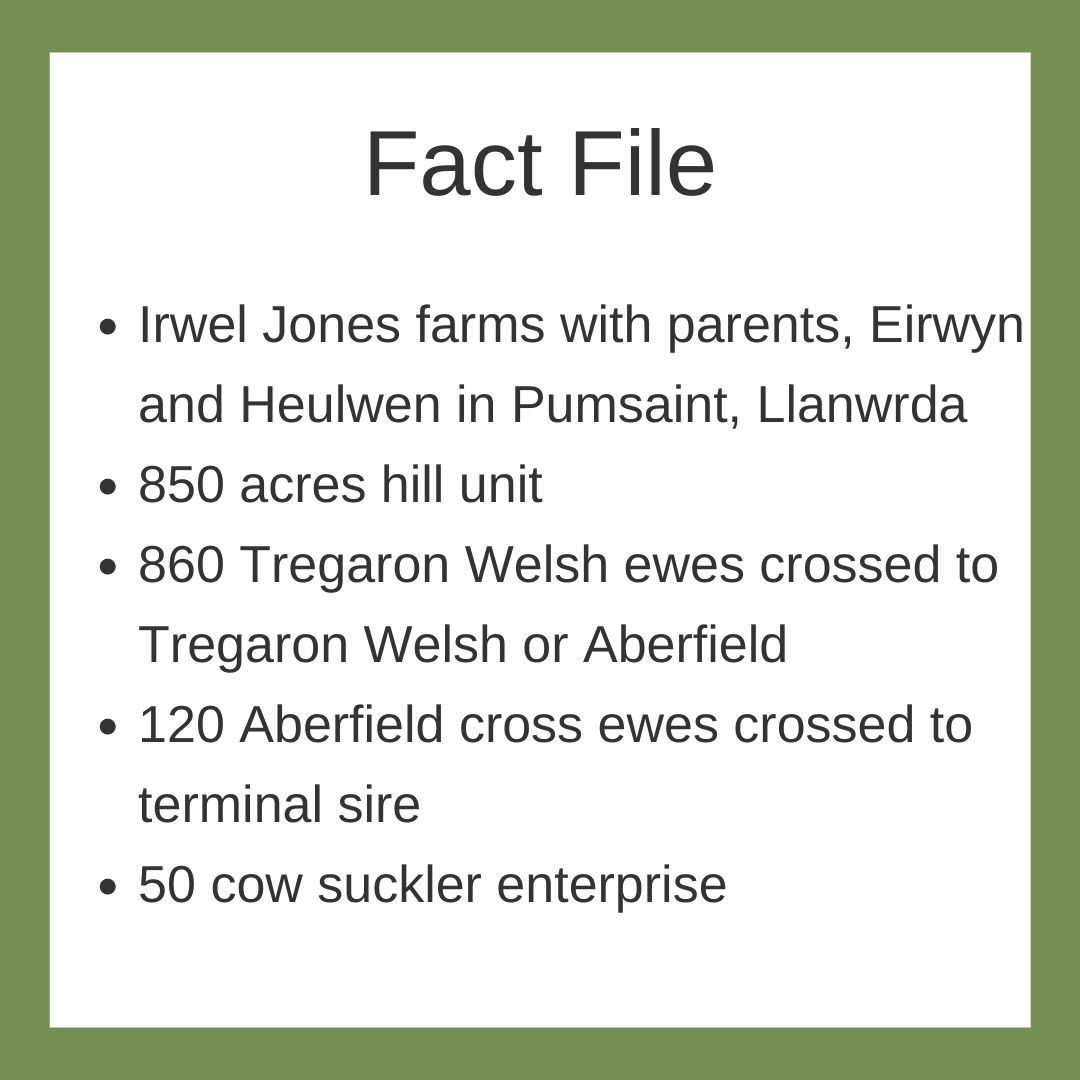 "These lambs are growing in to lighter, more prolific ewes, an average 60kg compared with 80kg for the Texel and Suffolk crosses they are replacing," Ben explains. "Consequently, they're enabling us to increase stocking rate whilst we expand the flock. We've proved they're suited to the low input forage based systems we're developing, whilst they are also capable of contributing towards increased lamb output. Scanning has improved from 150% in 2011 to 195% in 2016."
Since taking over Frowen Farm from Diana's parents in 2010, the couple realised the sheep enterprise comprising Suffolk cross and Texel cross ewes had to change from finishing lambs and breeding replacements to focus on finished lamb production.
"Agreeing a gentleman's arrangement with Irwel has enabled us not only to buy in all our replacements from one source to minimise disease risk, but also secure ewe lambs bred from performance recorded and proven genetics," says Ben.
For Irwel Jones, replacing a breeding strategy featuring traditional Welsh Mules with Aberfield crosses followed by finding one ewe lamb purchaser has introduced a new dimension and added value to the business, he says. "We introduced Aberfield rams in 2011, and have found they are lasting longer – at least up to five working years, we're achieving 40% more lambs reared whilst the wether lambs are finishing at an average 35kg three to four months earlier thereby freeing up more grazing.
"As far as the ewe lambs are concerned, then trading direct off the farm to one buyer is much less fuss than selling through the live ring. I agree with Ben and Diana a price in advance based on the finished market plus a bonus, together with delivery date. Last year we did the deal on the phone. In turn, they're given me very good feedback on my sheep which has provided me with new impetus along with a new level of security."
Irwel says as the two partners have built up a level of trust, future plans are for Ben and Diana to help him select new Aberfield rams with specific traits to breed their future replacements. "We are ambitious to expand the flock to 600 ewes and beyond, and the correct genetics suited to our management system will make a significant contribution to its future success," says Ben