with thanks to Eifion Pughe and family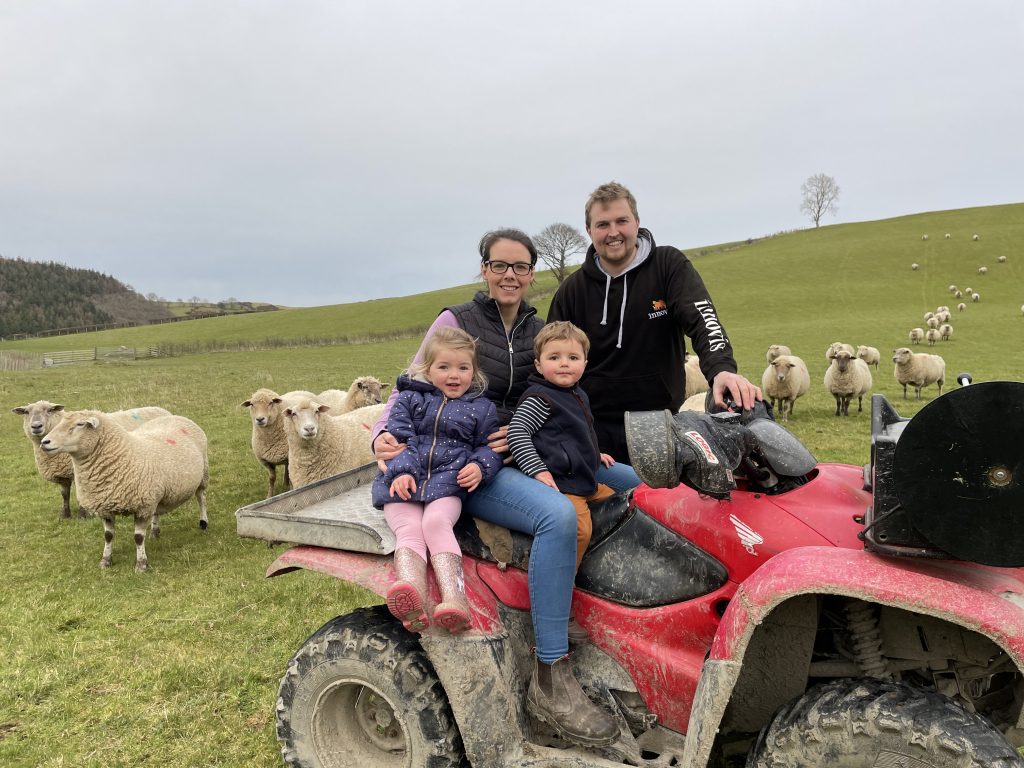 Making more from grazed grass with Innovis sheep genetics, specifically bred for forage-based systems is key to Eifion Pughe's future proofing strategy on his Powys upland unit. "It's all about stepping up output from fewer inputs if a farm like this is to remain profitable," he says. "Exploiting grass – the cheapest form of feed offers an obvious solution together with Abermax and Primera genetics.
"We've been able to improve output and reduce costs by 30% in the last five years since I joined Farming Connect's Prosper From Pasture programme in 2017 and introduced a simple focused plan. So far, 50% of traditional grazing and silage fields have been reseeded with red and white clover mixes, whilst we've also added plantain and chicory to the grazing sward mixes to safeguard against drought, improve soil health and structure, as well as animal health.
"These species are also enhancing soil fertility along with FYM from the cattle rearing which is enabling us this year for the first time to completely cut out applying fertilizer on grazing ground and make savings of up to £5,000.
"Better quality grazing has also enabled us to cut the unit's feed bill by 300% to just one tonne fed solely to ewes carrying multiple lambs two weeks prior to lambing to ensure sufficient milk. We used to feed concentrate to ewes with multiples for two to three weeks after lambing, however it's no longer necessary since we're now turning them out immediately afterwards, from late March, on to grass analysing 25% CP and both our Abermax and Primera ewes are really good grazers; that's what they are designed to do.
"We've reduced the paddock area to an average of four acres, which can be cut down further with electric fencing, and introduced rotational grazing. I keep an eye on availability and demand, measuring dry matter content every two weeks. Ewes overwinter on strip grazed root crops and deferred grazing or silage, and they're eventually housed for ease of management three weeks prior to lambing or when the roots run out."
Eifion's sheep breeding strategy has similarly evolved. "We farmed a hardy, low input Lleyn cross Welsh flock. However, I wanted to improve output and in particular maternal traits, and was influenced by my neighbour who had successfully invested in an Aberfield maternal sire. Initially, I was very sceptical simply because of the outlay, however I took the plunge and was convinced. I introduced one Aberfield ram to 100 ewes, they scanned 164% and the lambs finished without concentrate four weeks earlier. In comparison, we'd been putting our Lleyn ram to 60 ewes to achieve a scan of between150% and 165%.
"We've since taken the opportunity to work with Innovis as a breeding partner for Abermax and most recently, Primera. We're achieving a 160% scan, 85% lamb within the first three weeks, the top 25% lambs are retained for breeding purposes, and the remainder are finished off grazed grass to 42kg target weight within seven months."
Eifion who is also Innovis' Technical Sales Adviser in north Wales and the Cheshire border, attributes much of his grassland management success to Farming Connect's programmes. "When I eventually returned back to the family unit after studying at Glynllifon College and gaining further experience in New Zealand, I took over a traditional unit, set stocked with 320 Lleyn cross Welsh ewes and a very small suckler herd; I needed to make a living.
"I joined Prosper From Pasture to learn more about growing and how best to use, including in rotational systems. The Master Grass programme has helped me to develop my knowledge and skills, as well as providing really useful support and the opportunity to share with other like-minded people," he says. "We also introduced the unit to Glastir which has help to provide funding for boundaries and shelter. So far, I've renewed or replanted 3km of hedges for shelter along with 5km of fencing."
He adds: "This year we plan to half the cost of our reseeding operations by swapping plough for direct drilling. To the future, and we'll always keep our options open to systems and practices to maintain a profitable business."
If you live in North Wales or the Cheshire borders, and are interested in purchasing one of the Innovis product lines this year, get in touch with Eifion to discuss further.